Remember "Defund the Police"? Well, Guess Who's Actually Proposing Doing It.
The House Republican's debt ceiling bill has several nasty surprises for anyone who "backs the blue."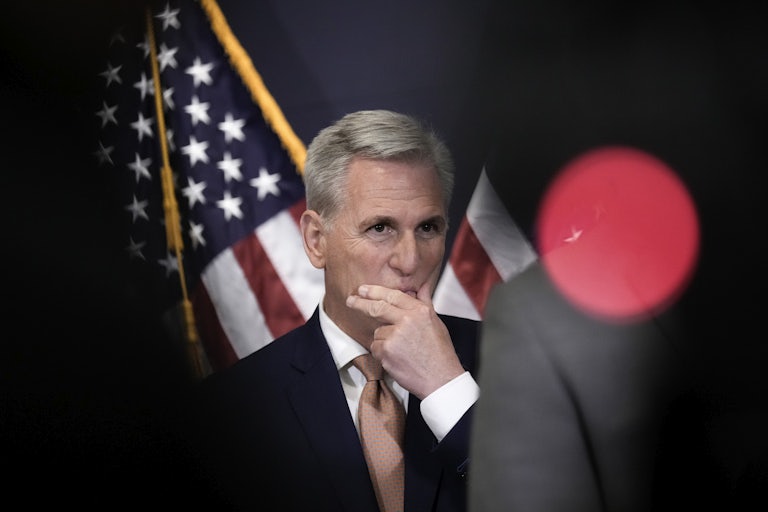 Drew Angerer/Getty Images
Speaker of the House Kevin McCarthy
We hardly go a week without seeing yet another example of Republican hypocrisy. They claim to live according to God's law and family values, and yet some hectoring moralists in their ranks will splash into the tabloids after getting caught in a love nest. They preach about the rule of law and then back every lawless move Donald Trump makes. They natter on about freedom, but when it comes to the freedoms of women and LGBTQ people, well... I could, as you well know, go on and on.
But here's a particularly hilarious and galling example of Republican hypocrisy, on display in the ongoing debt ceiling fight. Last week, the House Republicans passed their debt-limit budget bill, with all but four members of their caucus voting aye. The bill puts off the debt limit problem for a year, but in exchange, it demands a raft of the usual right-wing priorities—work requirements for poor people getting government assistance, the repeal of student-loan relief, attacks on Joe Biden's renewable energy priorities, and, just to show us all how proud they are of their hatred of science, boosts for fossil-fuel production.
The bill also would result in massive cuts to most government programs, because it shields the Pentagon, which eats up about 16 percent of the federal budget, from any trimming. Around two-thirds of federal spending goes to things Congress can't really change like entitlements and interest payments. That places the remainder of federal spending under the guillotine. The White House says most domestic programs would face cuts of 22 percent.
The list of affected programs includes the usual things Republicans hate. But it also includes some things Republicans claim to love.
What am I referring to here? Well, let's recall how, in the aftermath of George Floyd's murder, activists introduced the phrase "defund the police" into the public discourse. At the time, Republicans tried to hang that phrase on President Joe Biden and Democrats like stink on a pig. But while a handful of Democrats in deep blue districts took up the call, the rest of the party from Biden on down said no, we don't support that. (Perhaps they should: If we lived in a world where we could have a rational debate about these things, we might be able to agree that police departments handle some matters that would be better attended to by social-service agencies, but that isn't our world.)
Institutionally, Democrats have never wanted to defund the police. In fact, last year, Biden sought $37 billion in additional federal funding for police departments. The Republican debt ceiling bill, however, would defund the police! At both the local and federal levels.
Let's look at the numbers. Federal spending on local law enforcement isn't a huge program. But there are two categories of federal spending on police that are reasonably significant. The Community Oriented Policing Services program, or COPS, doles out $225 million in grants to local police departments. Another grant program called the Byrne-JAG hands out a little more, around $270 million or so. These dollars are used for personnel, equipment, crime prevention, and so on. A lot of money goes to small-city and small-town departments—which is to say, police departments in red America.
Democrats are more inclined, given their interests and priorities, to make noise about social-service cuts. They should do that—those cuts are unpopular too. Some examples: The Office of Management and Budget estimates that the GOP bill would result in the layoffs of 108,000 teachers, and 30 million fewer outpatient visits for veterans.
Americans generally like teachers and veterans. I have days when I think Biden should just roll over, let the Republicans have their way, and say to America, "Okay, folks, let's live according to Republicans' priorities for a while," just so people can feel the impact of the cruelty and hypocrisy in their daily lives. But as a liberal, I actually give a crap about things like kids having an adequate supply of teachers and veterans getting decent care, so I'd rather not subject ordinary Americans to the full impact of the Republican Party's grand social experiments, edifying though they may be.
Oh—I haven't even mentioned the border! The southern border is just about all that Republicans talk about. Whenever there's a huge story that runs against them in the news, a Trump indictment, or some other scandal, I flip on Fox to see how they're handling it. And nine times out of 10, they're handling it by yammering about the border. "Border" is the GOP's safe word. But their debt ceiling bill would eliminate funding for 2,000 border agents!
Finally, their bill would eliminate funding for more than 10,000 FBI personnel. This no longer counts as hypocrisy, I suppose, since Trump has turned those people into deep staters. But it sure can't be popular. And it will have obvious knock-on effects that could land heavily on ordinary people.

Biden and the Democrats have two roads they can travel here on the debt limit debate in these next three weeks. One is to highlight Republicans' heartlessness. The other is to showcase their hypocrisy. I see no reason why they can't do both, and I sure hope Democrats don't ignore the hypocrisy angle. That theme would also highlight the fact that Republicans happily passed debt limit increases during the Trump presidency when they controlled the Senate and House—twice when they controlled Congress, and once when Democrats did (and Kevin McCarthy voted for all three, by the way).
Republicans do these things because they're shameless, and they know that the average person is too busy living their lives to sit down and connect these complicated dots on their own. That's why it's the White House's job to do that for them. It's how Democrats win this fight.
This article first appeared in Fighting Words, a weekly TNR newsletter authored by editor Michael Tomasky. Sign up here.