Marjorie Taylor Greene Gets Awkward Civics Lesson on House Floor
Representative Rosa DeLauro gave the Georgia representative what she called a "basic lesson in civics."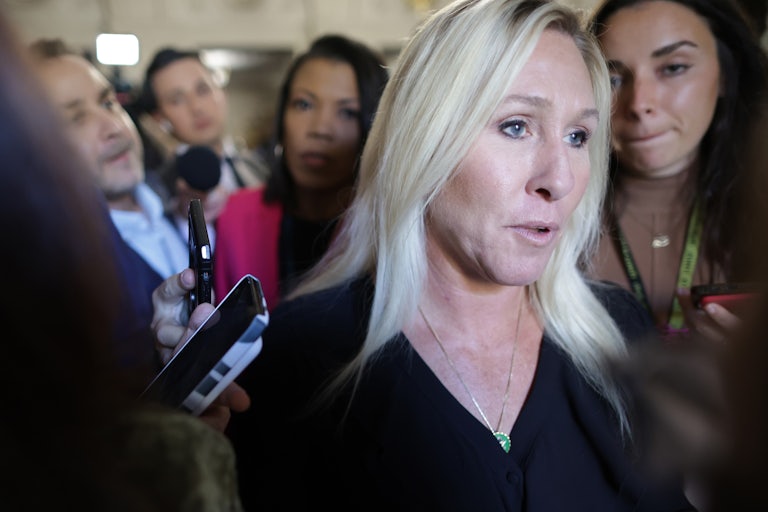 Alex Wong/Getty Images
Representative Marjorie Taylor Greene
It's never too late to learn civics—even if you're antagonizing other members of Congress on the House floor, apparently. Shortly after a vote on the House's stopgap spending bill, Representative Marjorie Taylor Greene got another awkward lesson about the U.S. political system.
"My Democratic colleague across the aisle who is 80 years old and has been here over 30 years just said we're on the verge of a shutdown," Greene said, taking a jab at Connecticut Representative Rosa DeLauro.

"She probably just forgot that a few hours ago she voted for the continuing resolution that will extend the budget, and we are not on the verge of a shutdown," Greene added.
But DeLauro didn't take the provocation lying down, instead taking the opportunity to educate the Georgia lawmaker that there is another half of Congress that will exercise its own judgment over the stopgap bill—with just three days before the government is scheduled to shut down.
"It may be that the gentlelady doesn't know that there is another body attached to the U.S. Congress called the United States Senate, and they have to vote on the continuing resolution," DeLauro whipped back. "And when they vote on it, we'll find out what it is that they do with regard to this continuing resolution passed by the House, which quite frankly is flawed to a fare thee well."
House Republicans spent the better part of October ousting their own speaker and subsequently wasting weeks trying to find a replacement, rather than working to prevent the looming government shutdown.
DeLauro then went on to argue the current spending bill, proposed by the House GOP, fails to meet U.S. obligations "both domestic and international."
"And by the way, there isn't a law of the land until the president of the United States signs it. That may be a basic lesson in civics. There is the House, there is the Senate, and there is the president," DeLauro quipped.
Greene was also fact-checked earlier this month when she lumped Confederate General Robert E. Lee into her defense of a bill that would prevent the removal of federal statues and monuments depicting the Founding Fathers.