MTG Is So Pissed at Lauren Boebert She Called Her a Bitch on the House Floor
The two Republican representatives are in the absolute pettiest of fights.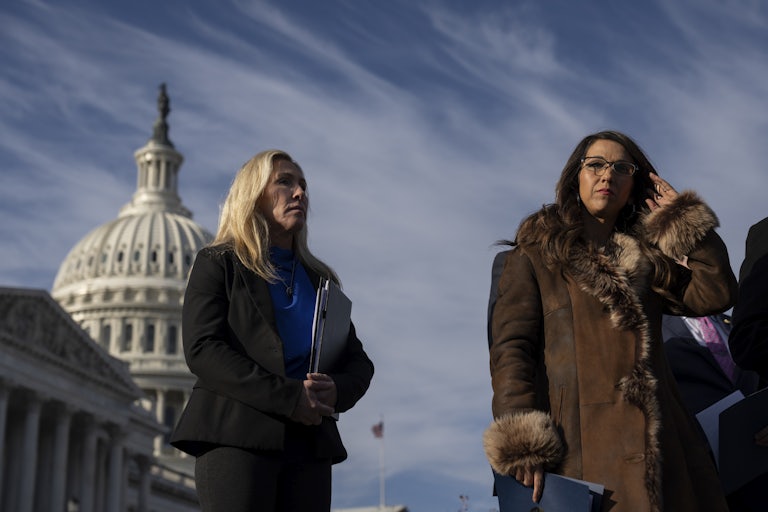 Drew Angerer/Getty Images
Representatives Marjorie Taylor Greene and Lauren Boebert
Republicans are not happy with Representative Lauren Boebert, who moved to force a vote this week to impeach President Joe Biden. But her former work bestie Marjorie Taylor Greene is absolutely livid.
Boebert introduced articles of impeachment Tuesday under a privileged resolution, meaning there has to be a vote on the measure within two days. The move surprised and frustrated many of her colleagues. House Speaker Kevin McCarthy said the measure was premature and urged Republicans to oppose it. He also warned it could hurt their bogus investigation into Biden. Representative Don Bacon called Boebert's resolution "frivolous" and said she had made the impeachment into "playground games."

Greene, on the other hand, was upset for a very different playground explanation. She tore into Boebert on the House floor Wednesday afternoon for copying her articles of impeachment.
Greene introduced articles of impeachment against Biden in May, over his handling of immigration at the southern border. Those articles have yet to go anywhere.
"I've donated to you, I've defended you. But you've been nothing but a little bitch to me," Greene told Boebert in the middle of the House floor, according to The Daily Beast, citing an anonymous source who witnessed the exchange. "And you copied my articles of impeachment after I asked you to cosponsor them."
Boebert, who claimed she had never read her colleague's articles, replied, "OK, Marjorie, we're through."
"We were never together," Greene shot back.
Earlier Wednesday, Greene had publicly shaded Boebert for copying her work and then skipping steps to get all the attention. "I had already introduced articles of impeachment on Joe Biden for the border, asked her to co-sponsor mine, she didn't," Greene said. "She basically copied my articles and then introduced them and then changed them to a privileged resolution."
The Georgia Republican told The Hill Wednesday that she would convert her articles, and others she has drawn up against other members of the Biden administration, to privileged resolutions she can introduce whenever she feels like.
When asked if she would support Boebert's resolution, Greene replied, "Of course I support 'em because they're identical to mine.
"They're basically a copycat," she added.
Greene and Boebert seemed to be good friends when they both first arrived on Capitol Hill, but they have since ruptured pretty spectacularly. They first began to diverge over continuing aid for Ukraine: Boebert supported it, while Greene was opposed.
Greene has also ingratiated herself with establishment Republicans, although both women still embrace far-right beliefs. Things came to a head during the interminable vote for speaker of the House in January. The pair reportedly got into a massive argument in a Capitol bathroom, when Greene accused Boebert of taking money from McCarthy for her reelection campaign but then refusing to vote for him for speaker.
The Daily Beast, citing an anonymous source, said Boebert replied, "Don't be ugly" and then "ran out like a little schoolgirl."
So safe to say, the fact that Boebert swooped in and got to impeach Biden first is not going down well.
This article has been updated.