James Comer Is Lying About His Requests for Hunter Biden's Bank Records
Republicans say they want Hunter Biden's bank records. So why did the House Oversight chair ignore a meeting to talk about them?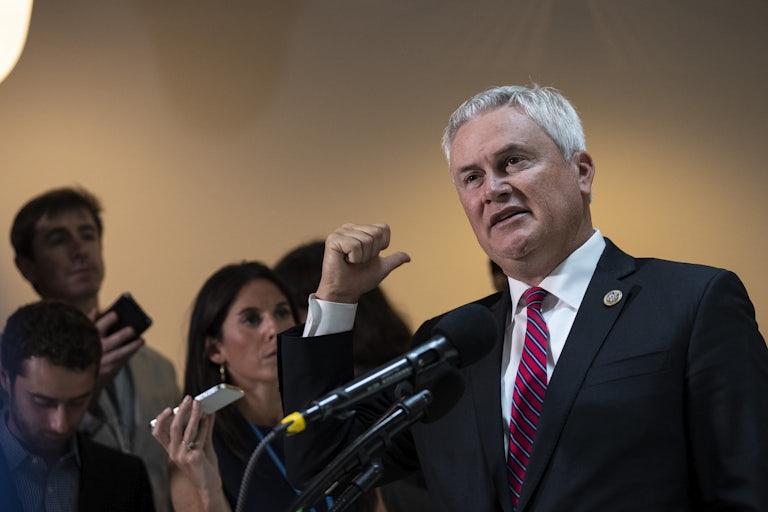 Drew Angerer/Getty Images)
Republicans insist that Joe and Hunter Biden are stonewalling the investigation into their supposed crimes. But the GOP actually passed up on a chance to discuss Hunter's financial records.

House Oversight Committee Chair James Comer has spearheaded the investigation into the Bidens, alleging for months with zero proof that the president and his son are guilty of corruption. During a Tuesday interview with Newsmax, Comer said that he had requested Hunter Biden's bank records but never got a response. The Kentucky Republican said he anticipated a court battle to access the documents.
But as it turns out, that is not strictly true. The Oversight Committee requested more than a decade's worth of Hunter Biden's bank records on February 8. And the very next day, Hunter Biden's legal team responded.
"On February 9, we wrote back to you and, while pointing out the concerns about the motive and improper basis for your requests, I specifically said, 'I would offer to sit with you and your staff, including the ranking member and his staff, to see whether Mr. Biden has information that may inform some legitimate legislative purpose and be helpful to the Committee,'" Biden's lawyer Abbe Lowell said Tuesday in a letter, which was shared with The New Republic.

"You never responded to that offer."
The February letter, which was also shared with TNR, didn't promise to hand over years of Hunter Biden's financial records, as Republicans requested, but it did offer a chance to meet directly with his legal team.

The letter also argues that the Oversight Committee is overreaching in its investigation of Hunter Biden because he is a private citizen. Lowell points out that congressional investigations are supposed to be directly related to legislative duties.
"Whether you think Mr. Biden acted properly or not, and whether you think his private business dealings and associations are inappropriate or not, his behavior is that of a private citizen, not a public official," Lowell wrote in February. "That his father was a Senator, Vice President, or now President is not an endorsement of your choice to make every aspect of Mr. Biden's personal life your political weapon."
House Speaker Kevin McCarthy launched an impeachment inquiry into the president on Tuesday, citing his alleged involvement in his son's business dealings. Republicans know—and have even admitted—they have no evidence of Biden committing crimes, but they are content to use his relationship with his son to try to discredit him.
More on James Comer's Biden "Investigation"