Trump and 18 Allies Charged With Racketeering in Most Sweeping Indictment Yet
Donald Trump has been indicted under Georgia's RICO law for his attempts to overthrow the 2020 election.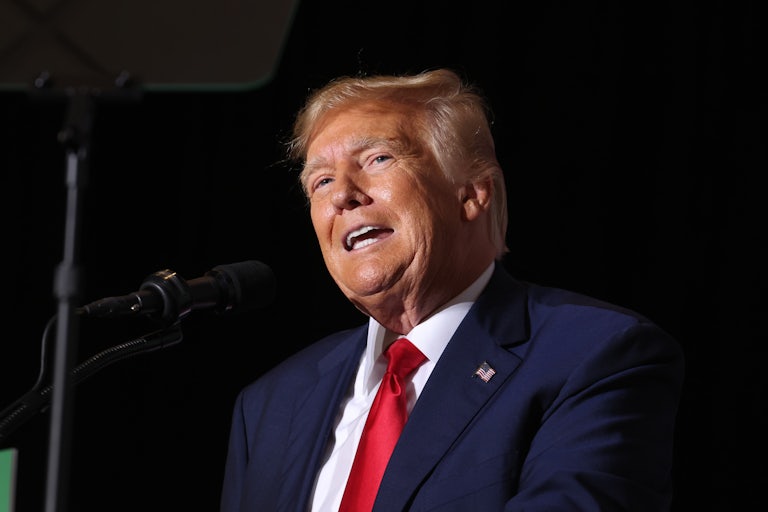 Scott Olson/Getty Images
Donald Trump was indicted Monday for a whopping fourth time, and the second time for his efforts to overturn the 2020 election.
Trump and several of his top allies were charged with felony racketeering for their role in efforts to overturn the results of the election in Georgia. The 41-count indictment also goes after Trump lawyers Rudy Giuliani, John Eastman, Sidney Powell, Kenneth Chesebro, Jenna Ellis and Ray Smith, along with several others. Trump himself faces 13 criminal counts.

The former president and his 18 co-defendants were charged with engaging "in a criminal racketeering enterprise to overturn Georgia's presidential election result."

The charges fall under Georgia's Racketeer Influenced and Corrupt Organizations Act (RICO Act), which was originally used to go after organized crime groups and mobsters. Prison sentences for those found guilty under Georgia's RICO Act are between five and 20 years.

Fulton County District Attorney Fani Willis has been steadily working her way closer to Trump for the past two years.
The charges cite Trump's January 2, 2021 phone call begging Georgia Secretary of State Brad Raffensperger to "find" 11,780 votes—the exact amount needed to flip the state's election results away from Joe Biden. Several of Trump's co-defendants are also facing charges related to a breach of voting machines in Coffee County, which is a few hours south of Fulton.
A group of pro-Trump people, paid by Powell, accessed voting machines at the county's election office. They copied sensitive data and uploaded them to a site for election deniers to access and use to try to prove the election had been rigged. Coffee County is not in Fulton's jurisdiction, but the racketeering charge lets prosecutors point to the data breach as part of a pattern of behavior to corruptly keep Trump in office.
Trump is still—appallingly—the frontrunner in the Republican presidential race, despite the growing mountain of charges against him. The twice-impeached former president has already been found liable for sexual abuse and defamation. He was indicted earlier this month for his role in inciting the January 6 riot, and he has been charged with keeping classified national defense documents without authorization, making false statements, and conspiring to obstruct justice. Trump also has been charged with business fraud in New York for his alleged role in making hush money payments to Stormy Daniels.