Right Before the Election, Stephen Crowder Says "Peaceful Transfer of Power" Is Overrated
The right-wing media figure is tacitly endorsing violence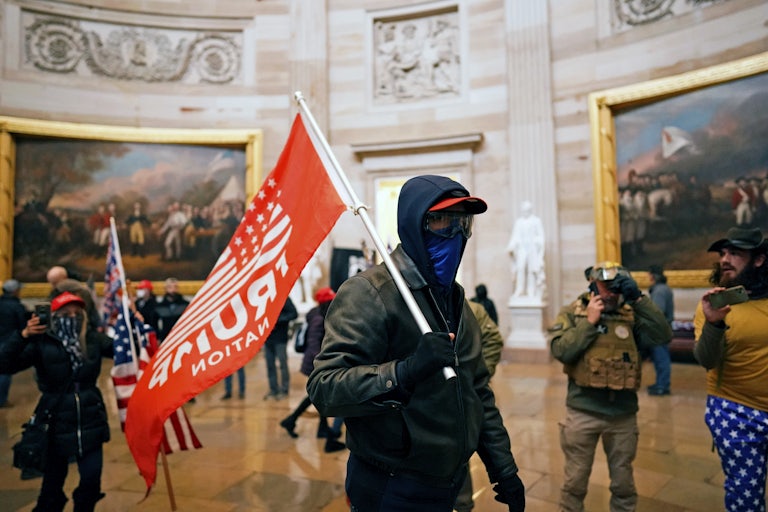 Kent Nishimura / Los Angeles Times via Getty Images
Protesters storm the Capitol on January 6, 2021.
Steven Crowder thinks that a peaceful transfer of power is overrated.

The right-wing media figure made the remark on the eve of the first national elections to follow the January 6 riots attempting to overturn the 2020 election.
"The idea that the peaceful transfer of power is inherently our most valued tradition—it's not. Our original tradition is rebellion, violent rebellion," Crowder said on his show.
"I'm not suggesting any kind of violent upheaval over the election, that's not what I'm suggesting," Crowder hedged, before proceeding to describe rebellion as uniquely America's "original tradition." Canada and other countries had a "slavery basis" that America apparently didn't have after its valiant freedom-bringing revolution, according to Crowder.
Historical revisionism aside, Crowder's remarks are part of a continual effort by the right to not only excuse the January 6 rioters, but justify and glorify them. On the eve of the midterm elections, it can also be seen as priming voters to reject Democratic victories by violent means if necessary.
"We actually, as a nation, became a nation because we pulled off the completely unpeaceful transfer of power," Crowder glowed about the American Revolution.

While Crowder may throw in a line saying that he's not calling for violence, his larger dialogue connects violent rebellion to nation-creation—at a time when the right-wing perennially focuses on "making America great again" or "bringing America back."
Crowder's project is certainly no secret. His show has faced numerous suspensions from YouTube, the latest involving a two-week suspension that prevents Crowder from posting more content until after the midterm elections. Crowder's channel had been suspended and demonetized in the past for pushing forth false claims about the 2020 presidential election and for using racist and homophobic slurs.
More on the 2022 Election