Arizona Judge Restricts Armed Vigilantes Monitoring Election Drop Boxes
The order prevents members of Clean Elections USA from standing within 75 feet of a ballot box or following voters after they drop off their ballots.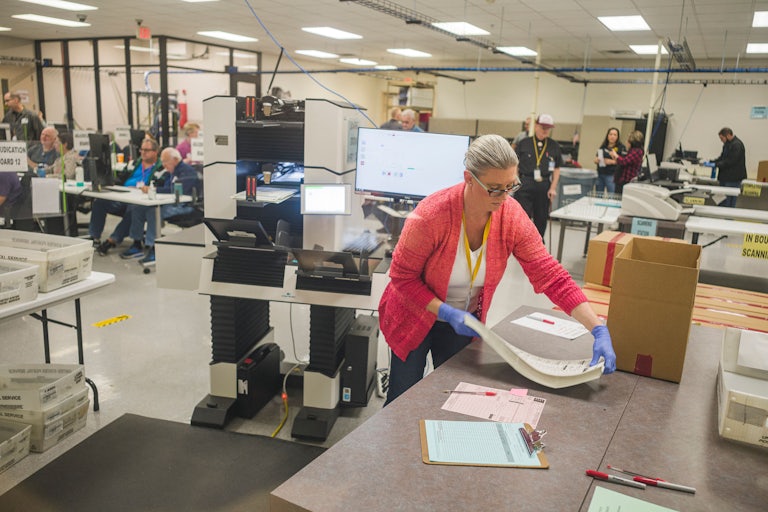 OLIVIER TOURON/AFP via Getty Images
A poll worker in Maricopa County, Arizona.
In a rare piece of good news, an Arizona judge has banned people accused of voter intimidation from monitoring the state's ballot boxes ahead of the contentious midterm elections.
U.S. District Court Judge Michael Liburdi sharply restricted the activities of a group called Clean Elections USA late Tuesday. The group says it is watching ballot dropoff locations for potential voter fraud, but it has been accused of voter intimidation
Group members cannot stand within 75 feet of a ballot box, Liburdi said in his ruling. They cannot speak to people at the boxes unless spoken to first and cannot follow voters after they drop off their ballots.
Watchers are not allowed to be armed—some of them have been—and they cannot take photos or videos of voters. Both the group and its founder Melody Jennings have to post statements on the Clean Elections USA website and Truth Social, former President Donald Trump's social media platform, explaining they have been spreading disinformation about Arizona elections.
Arizona law enforcement has been on high alert over the past few weeks after reports of sometimes armed people showing up to watch ballot boxes. Many voters have accused the watchers of voter intimidation after they took photos and videos of people dropping off their ballots and followed voters.
The watchers could have scared off other potential early voters, or voters in general. They have received support from Mark Finchem, who is running for Arizona secretary of state.
They have apparently been inspired by widespread lies about the 2020 election result. Trump has claimed for years, with zero proof, that the vote was rigged against him.
The League of Women Voters sued Clean Elections USA last week, accusing them of voter intimidation and seeking a court order to halt their actions. During the trial on Tuesday, a man and his wife testified that they had been harassed and filmed by eight to 10 people accusing them of being "mules" for fraudulent votes.
Photos of the man and his car were published, and Jennings later spoke about them on the podcast of former Trump advisor Stephen Bannon.
Liburdi's ruling Tuesday is both a relief and an about-face from Friday, when he refused another group's request to ban Clean Elections USA from ballot boxes. "Plaintiffs have failed to show" their case is likely to succeed, the Trump-appointed judge said.
Arizona has struggled particularly hard with false claims that the 2020 election was stolen. Governor Doug Ducey certified the state's result in favor of President Joe Biden, but the state's Republican Party supported a massive recount of the votes that ultimately found no evidence of voter fraud.
Republicans are also already priming voters to reject Democratic victories in the upcoming midterm elections, particularly tight ones, as fraudulent.