The Weirdest, Smallest Counter-Protest Took Place at Biden's Speech on the Threat to Democracy
Protesters tried to start a chant, but there were only six of them, so it wasn't very loud.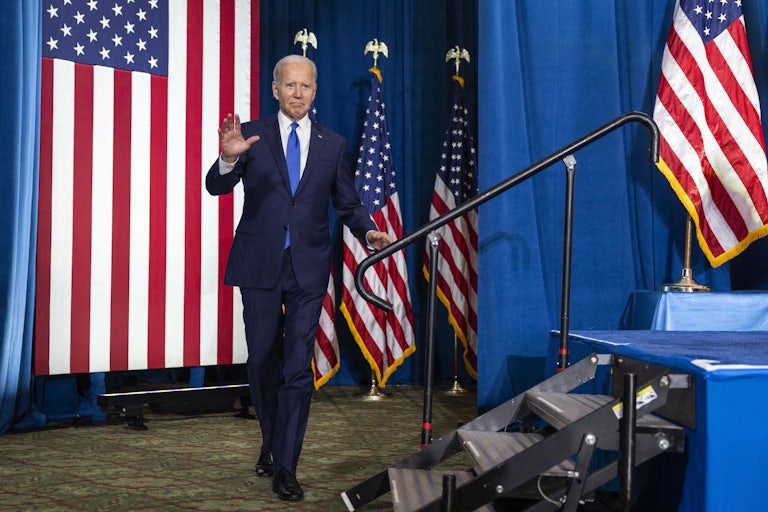 Jim Lo Scalzo/EPA/Bloomberg via Getty Images
Right-wing activists showed up to protest President Joe Biden's speech Wednesday night warning that the future of U.S. democracy was at stake in next week's midterm elections.
But things didn't quite go to plan: there were only six of them.
"Outside of Union Station, six low-energy right-wing activists have gathered to protest Biden's speech," Daily Beast reporter Zachary Petrizzo said on Twitter, alongside a photo of the group.
The protesters had two flags and posters with photos of people who had died during the January 6 attack on the Capitol.
In his speech, Biden slammed "extreme MAGA Republicans" who he said are already trying to undermine the election results. "We can't take democracy for granted any longer," he said.
While he spoke, protesters tried to get a chant going, but there weren't enough of them to make an impact. Later, when Biden left, they missed the motorcade and thus another opportunity to complain that the 2020 election had been stolen or that those arrested for the January 6 insurrection were political prisoners.
One of the oddest details, though, was the people the protesters chose to feature on their signs. The victims included Ashli Babbitt, who was shot dead by Capitol police while trying to enter the building on January 6; and Rosanne Boyland, who appeared to have been trampled to death by the crowd of insurrectionists, but a later medical examination revealed she had died of an amphetamine overdose.
Another poster featured Brian Sicknick, a Capitol police officer who was violently assaulted by rioters on January 6. He suffered two strokes the next day and died.
His mother, Gladys Sicknick, is actively campaigning against election deniers running for office. In a recent ad targeting Arizona gubernatorial candidate Kari Lake, Sicknick charges that "my son died because of people like Kari Lake."
Lake "is very dangerous for our country. She saw what happened on January 6 and continues to spread the big lie," Sicknick says in the ad.
Former Capitol police officer Michael Fanone, who was also brutally attacked on January 6, praised the ad.
Gladys Sicknick is "out there, I think trying to do what all of us are trying to do here, which is bring accountability for January 6," he told MSNBC. "And, you know, I also support the fact that Kari Lake's a piece of shit."
More on the 2022 Election