Kenneth Mejia Called to Cut the Police Budget in Los Angeles—and He Won
The new Los Angeles city controller highlighted the outsize police budget in a series of giant billboards across the city.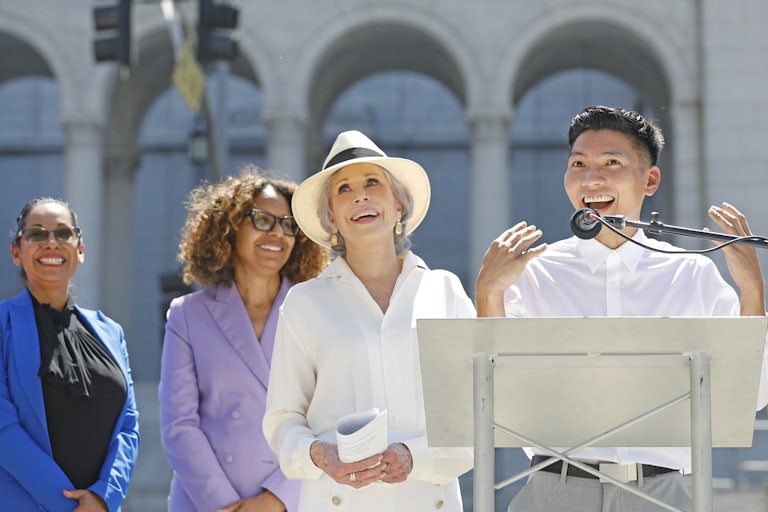 Christina House/Los Angeles Times/Getty Images
Kenneth Mejia was elected Los Angeles city controller by putting the city's police budget on blast—and on a billboard for all to see.
Mejia was elected Los Angeles' top financial officer with 60.8 percent of the vote, the Los Angeles Times reported Wednesday. His opponent, Paul Koretz, trailed far behind with 39.2 percent.
The 32-year-old Mejia ran on issues including affordable housing, decreasing the police budget, and financial transparency from the city government. His campaign outreach included engaging with younger voters on social media platforms such as TikTok.
But his biggest coup was paying for a series of billboards throughout the city displaying a breakdown of the L.A. budget. The police budget was by far the largest.
Mejia, who is Filipino American, grew up in the Los Angeles area. He worked as a certified public accountant and as a community activist, particularly on issues of affordable housing. The Los Angeles Times endorsed him for city controller both during the primaries in June and in early October, ahead of Election Day.

"WE DID IT!" Mejia tweeted Tuesday night, listing off the number of ways his win is historic, including being the first Filipino elected official in L.A. and the first person of color elected to the city controller's office in more than a century.
Read more about Mejia at the Los Angeles Times.