Maryland and Missouri Vote to Legalize Marijuana
After this election, recreational marijuana use will soon be legal in 21 states and D.C.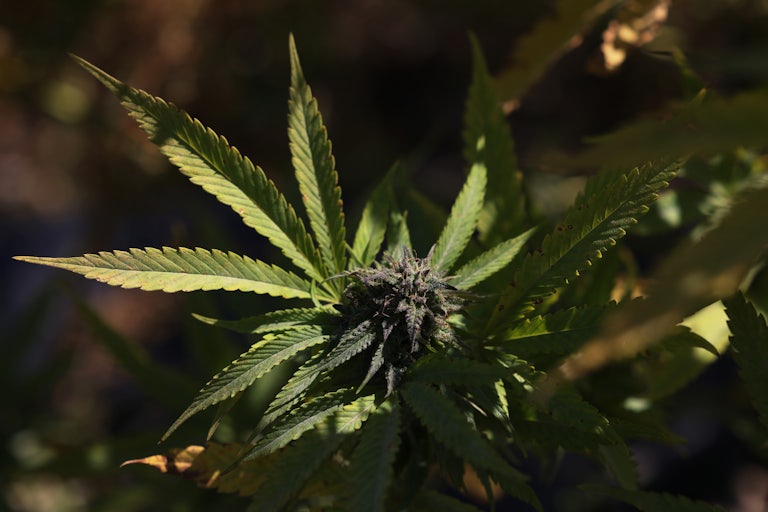 Michael M. Santiago/Getty Images
Maryland and Missouri have voted to legalize recreational use of marijuana.
In Maryland, voters passed a measure legalizing recreational use for adults age 21 and older and allowing the Maryland General Assembly to regulate and tax cannabis. Adults in Maryland will be allowed to smoke marijuana, grow up to two cannabis plants, and possess up to 1.5 ounces of marijuana beginning July 1, 2023.
The measure passed 65.54 percent to 34.46 percent, with 82 percent reporting.
Legislation paired with the passage modifies penalties for people under the age of 21 found to be using cannabis. The bill would also automatically expunge convictions for any conduct now legal under the new law—and people serving time for any offenses would be allowed to file for resentencing.
In Missouri, voters passed a similar measure, 53.14 percent to 46.86 percent, with 96 percent reporting. Adults over the age of 21 will be able to possess up to three ounces of marijuana, and grow up to six cannabis plants, come December.

The measure also enacts a six percent tax on the retail price of recreational marijuana and—unlike Maryland where this will be done automatically—allows people with marijuana-related offenses to petition to be released from incarceration and have their records expunged.
The results display the ever-increasing popularity of marijuana legalization. While Maryland is a reliably blue state, Missouri is not. Former President Donald Trump won Missouri by 15 points in 2020.
Even in states where marijuana legalization initiatives did not pass, the measures overperformed relative to Democratic results. In North Dakota, the measure failed by just under 10 points, while in South Dakota it fell short by about six. In Arkansas the measure failed by about 13 points. Trump had won by over 25 points in all three of those states in 2020.
With Maryland and Missouri's passage of the measures, recreational marijuana use is now legal in 21 states and Washington, D.C.