All Five States With Abortion on the Ballot Voted to Increase Access
Voters in California, Michigan, Vermont, Kentucky, and Montana all showed up to protect abortion.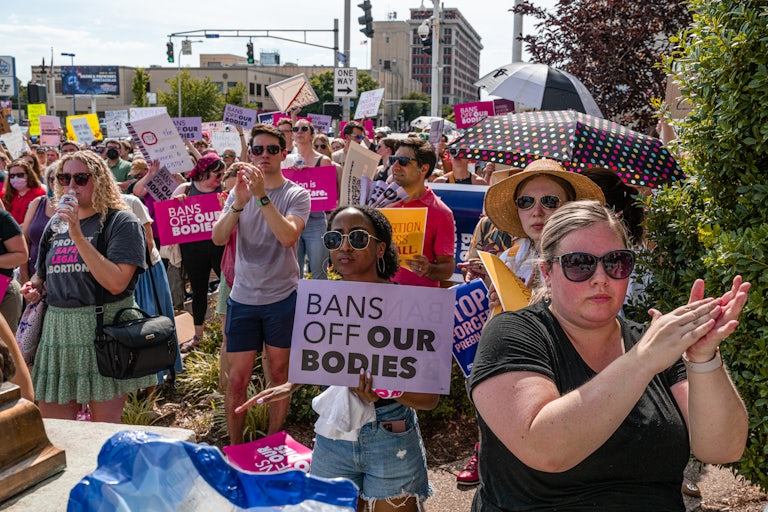 Jon Cherry/Getty Images
Abortion rights protesters in Louisville, Kentucky.
Five states voted to increase abortion access on Election Day, in a massive victory for women and gender minorities.
California, Michigan, and Vermont all passed constitutional amendments codifying the right to abortion Tuesday, with 65.2 percent, 55.5 percent, and 77.4 percent of the vote in each state, respectively, according to The New York Times.
Kentucky and Montana both voted against anti-abortion ballot initiatives. In Kentucky, 52.6 percent of people voted against an amendment that would have said abortion is not a protected right in the state. In Montana, 52.6 percent of state residents voted to reject a measure that would have deemed any infant "born alive" a legal person, the Times reported.
Abortion became a hotly contested issue after the Supreme Court overturned the nationwide right to the procedure in June. States rushed after the ruling to either enshrine or scale back abortion access. Health experts warn that banning the procedure will result in a massive uptick in the national maternal mortality rate.
In August, residents of Kansas, a typically conservative state, voted to keep abortion protections in the state constitution, a major twist that had many activists hopeful for future reproductive rights referendums—and, it would seem, with good reason.
In California, people voted by 1,617,876 points Tuesday to add an amendment to the state constitution enshrining the right to "reproductive freedom," which includes both abortions and contraception. The state had passed a law legalizing abortion after the Supreme Court ruling, but an amendment cannot be challenged in court and therefore holds more power.
Vermont also already has a law protecting abortion, but residents voted by 91,155 points to enshrine the right to "reproductive autonomy" in the constitution, as well.
In Michigan, the Supreme Court ruling triggered a 1931 law banning abortion, but a state court temporarily blocked that law going into effect. Michigan residents passed a constitutional amendment by 443,940 points protecting abortion rights. As a result, the old law can no longer be implemented.
In a surprise similar to Kansas, voters in conservative Kentucky rejected an amendment that would have specified their constitution does not protect abortion access. The decision to keep abortion access passed by 67,953 points.
Montana abortion rights are protected under a 1999 state Supreme Court ruling, but residents voted Tuesday on a measure about fetal personhood. The law, which people rejected by 20,581 points, would have required medical care be given to "infants born alive after an induced labor, cesarean section, attempted abortion, or another method."
The measure said "born alive" meant anything that "breathes, has a beating heart, or has definite movement of voluntary muscles."
However, fetuses are rarely "born alive" after an abortion, according to the CDC. Montana state health experts had slammed the measure, warning it could have negatively affected care for babies born prematurely or with fatal abnormalities by preventing doctors from helping relieve any pain those babies might be in, or punishing medical professionals that let families hold such newborns before they die.