Will Rudy Giuliani Flip on Trump?
The slavishly devoted Giuliani just met with Jack Smith. How worried should Donald Trump be?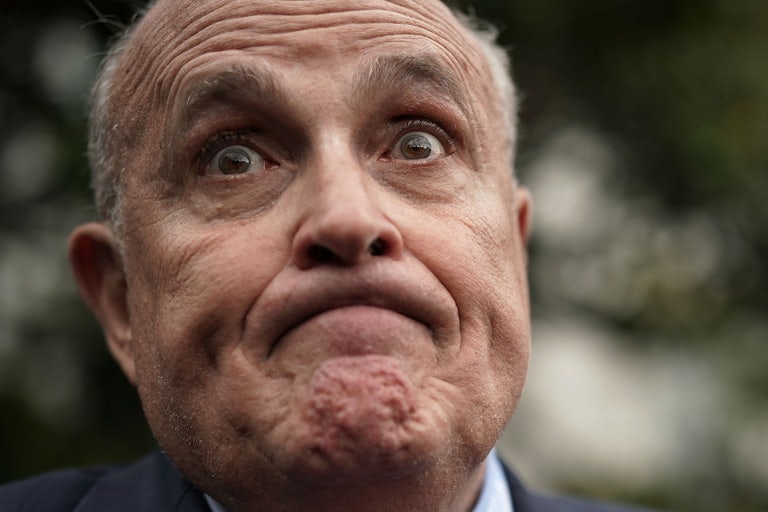 Photo by Alex Wong/Getty Images
The former president's legal problems continue to grow. On Friday, reports began to circulate that Donald Trump would soon be facing even more charges—as many as 45—relating to his mishandling of classified documents. These charges would be in addition to the 37-count indictment that was brought against Trump earlier this month. Per The Independent, the Department of Justice "has made preparations to bring what is known as a "superseding indictment"—a second set of charges against an already-indicted defendant that could include more serious crimes." It's unclear if these charges will be brought in Florida, where Trump is currently facing trial for the documents case, or in another location. It's possible that special prosecutor Jack Smith and his team could bring them somewhere else as a hedge, given that Aileen Cannon, the judge overseeing the Florida case, is widely believed to be in the tank for the man who appointed her to her current station.
As bad as dozens of federal charges would be—45 new counts would bring the entire menu of state and federal charges Trump is currently facing to over 100 charges—Trump is now facing another serious threat. According to The Independent, Smith's team is "ready to bring charges against several of the attorneys who have worked for [Trump], including those who aided the ex-president in his push to ignore the will of voters and remain in the White House despite having lost the 2020 election." One of those lawyers is Rudy Giuliani.
Giuliani has been one of Trump's most slavish loyalists—he was also one of the biggest proponents of the lie that the 2020 election was stolen. Giuliani's legal exposure is incredibly serious, and there are now signs that he may be about to flip on Trump.
Giuliani recently met with Smith in what is known as a "proffer." These meetings sometimes, but not always, result in cooperation agreements. "They are a method by which white-collar defense lawyers seek to probe what the prosecutor's interest is in the client and to see if they can assuage any suspicions by the prosecution that the client has committed crimes," per The Daily Beast's Shan Wu.

It's unlikely that Giuliani has flipped on Trump—the meeting between him and Justice Department attorneys was likely preliminary in nature. Still, Giuliani was very involved in the plot to overturn the 2020 election and, as such, faces extreme legal risk. It's not unthinkable that he would try to reach a deal with prosecutors in exchange for testifying against his former boss. In any case, Donald Trump should be very afraid.