Affirmative Action is Over, Thanks to the Supreme Court
The rulings seriously curtail race-conscious college admissions, effectively ending a decades-old policy.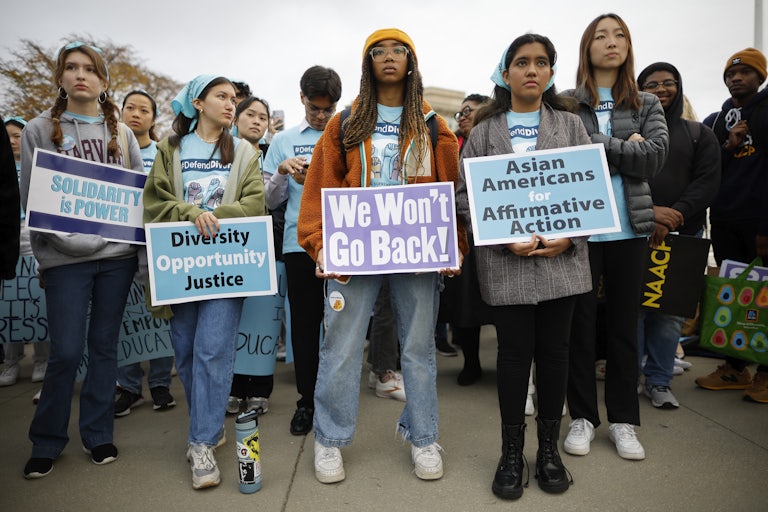 Photo by Chip Somodevilla/Getty Images
The Supreme Court has voted to end affirmative action in higher education, overturning decades-old policy originating from the presidencies of John F. Kennedy, Lyndon B. Johnson, and Richard Nixon.
"Harvard's and UNC's admissions programs violate the Equal Protection Clause of the Fourteenth Amendment," the court's majority opinion ruled.

The suits were brought by the anti–affirmative action group Students for Fair Admissions; one was against Harvard University, another against the University of North Carolina.

In the former, the court voted 6–2, with Justice Ketanji Brown Jackson recusing herself due to having served on Harvard's Board of Overseers. In the latter, the court voted 6–3.
Affirmative action has been a point of legal contention for decades, but most cases regarding it have arrived at one general conclusion: Schools can consider a student's race when making admissions decisions, but only as part of a broader comprehensive and holistic process. This was the finding in the landmark 2003 cases Grutter v. Bollinger and Gratz v. Bollinger, in which the court ruled that affirmative action in school admissions is constitutional if race is treated as one factor among many, if the purpose is to achieve more diverse classes, and if it doesn't replace more individualized review of applicants.

In ruling affirmative action unconstitutional, the court overturns this focus on holistic balance.

Now schools across the country will need to overhaul their admissions processes to the new regime. Many schools have already begun to de-emphasize the need for standardizing testing; others are taking the stronger step to get rid of legacy admissions, which favor the children of alumni.

What's clear is that unless schools take positive steps to ensure their student bodies grow more and not less diverse in the aftermath of this decision, the Supreme Court will leave yet another shameful legacy in its wake: this time, hamstringing our need to foster a strong diversity of thought in this country.

"In so holding, the Court cements a superficial rule of colorblindness as a constitutional principle in an endemically segregated society where race has always mattered and continues to matter. The Court subverts the constitutional guarantee of equal protection by further entrenching racial inequality in education, the very foundation of our democratic government and pluralistic society," Justice Sonia Sotomayor wrote in her dissenting opinion.

More on Affirmative Action