Florida Man Known for Threatening Teachers and Gay Kids Thinks He Can Be President
Ron DeSantis has officially declared his run for president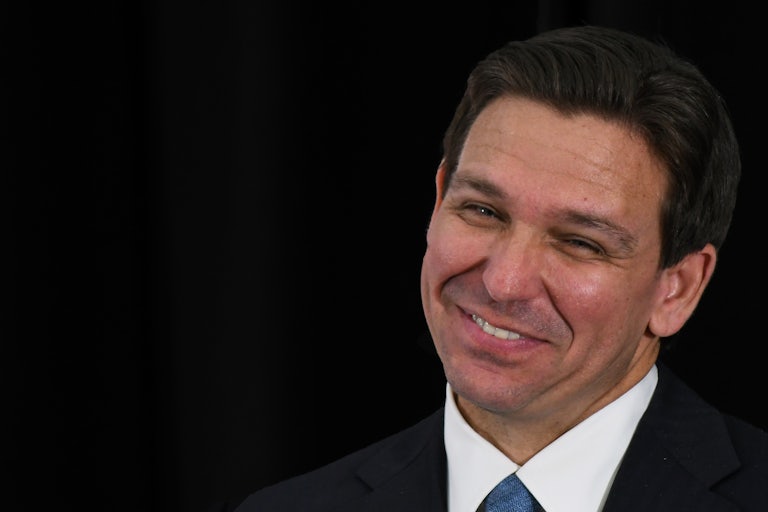 Paul Hennessy/SOPA Images/LightRocket/Getty Images
A 44-year-old Florida native known for attacking LGBTQ people and local schools has formally launched his candidacy to become the Republican nominee for president of the United States.
Ron DeSantis comes to the race with a résumé some may even call too polished for the Republican Party.

He led the passage of a "Don't Say Gay" bill that bans discussion of sexual orientation and gender identity in schools. He forced the College Board to strip down its A.P. African American studies curriculum. He gave advice on how to torture Guantánamo Bay detainees. He pushed for a six-week abortion ban. He delicensed businesses for hosting drag shows. He made it legal for people to carry concealed loaded guns without any permits, training, or background checks. He voted to roll back regulations that could have stopped the collapse of Silicon Valley Bank. He pushed a bill banning anyone from having an undocumented person in their car or home. He directed the personal data collection of anyone seeking gender-affirming treatment on college campuses and the banning of such treatment for anyone under 18. He quietly packed the Florida Board of Medicine and New College Board of Trustees with campaign donors and friends who are already reshaping health care and education for the worse.

And now, after filing his paperwork Wednesday afternoon, DeSantis has finally launched his bid to try to beat Donald Trump, the first-rate corrupt, racist, and hateful archetype he has looked up to for so long.
And of course, he plans to kick off his run during a Twitter Spaces conversation Wednesday evening with another renowned racist elite, Elon Musk.
Other than Trump, DeSantis joins an increasingly crowded field that includes former South Carolina governor and U.N. Ambassador Nikki Haley, South Carolina Senator Tim Scott, multimillionaire executive and contrarian-by-hobby Vivek Ramaswamy, and former Arkansas Governor Asa Hutchinson.
DeSantis enters a Republican primary that will likely become one of a few things. It could soon be a race to the bottom, in which candidates try to out-racist and out-hate each other in order to appear as far right as possible (a high standard, given Trump's presence). It could become a race to see who can become the consensus "Never Trump" candidate in the hope that all of the opposition, plus perhaps some number of Trump voters, can be enough to tank the leading Republican. Or this may just be a race to see who can outmaneuver the others in being the most Trump-friendly, in the hopes that they will either replace Trump (and even earn his blessing) if he is taken down by one of his many criminal investigations, or just become his running mate.
Regardless of how it takes shape, the ensuing Republican primary will confirm what most of the country already knows: Whoever comes out alive should be as far away from power as possible.