Meta Is About to Royally Screw Up The Next Election
A new report shows Meta is already helping spread election lies on Facebook and Instagram.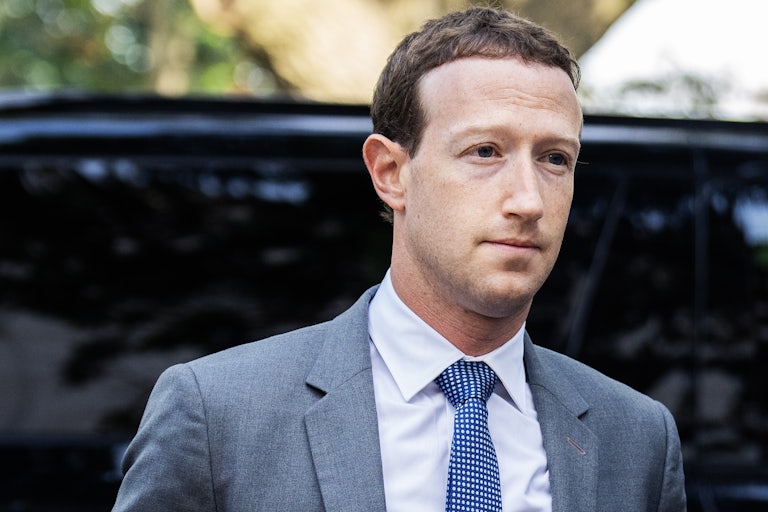 Tom Williams/CQ-Roll Call, Inc/Getty Images
Facebook parent company Meta is allowing political ads on its platforms that promote the false belief that the 2020 election was rigged, a move that could destroy the upcoming vote in 2024.
A Wall Street Journal report on Wednesday revealed that Meta actually made the change in 2022. Facebook and Instagram will now allow political ads that say past elections were "rigged" or "stolen," although they are not allowed to claim that ongoing or upcoming elections are fraudulent.
Meta executives "made the decision based on free-speech considerations after weighing past U.S. elections in which the results might have been contested by a portion of the electorate," the Journal reported, citing anonymous sources familiar with the move.
The main vote in question is the 2020 election, which former President Donald Trump insists he won. The problem, of course, is that while a portion of the electorate may have contested the vote, there was absolutely no fraud found whatsoever.
Trump and his allies repeatedly contested the 2020 results, filing legal challenges and demanding recounts in battleground states. Every lawsuit was ultimately dismissed, and none of the recounts found any issues with the results.
Meta's decision means that politicians will be able to straight-up lie to voters on two of the most popular social media platforms. Trump has already taken advantage of the policy change. In August, he ran a campaign ad on Facebook that claimed, "We won in 2016. We had a rigged election in 2020 but got more votes than any sitting president."
Both of his claims in the second sentence have been disproven multiple times. But this ad was in line with Meta's new policy.
It should go without saying that Meta's decision is dangerous. Hiding behind the justification of "free speech" does not change that. Completely unmoderated free speech causes a rush of disinformation, which many people are only too happy to believe.