Georgia's Maternal Deaths Will Increase By Nearly One-Third If Abortion Is Banned
The governor's race in Georgia will determine the future for abortion access in the state.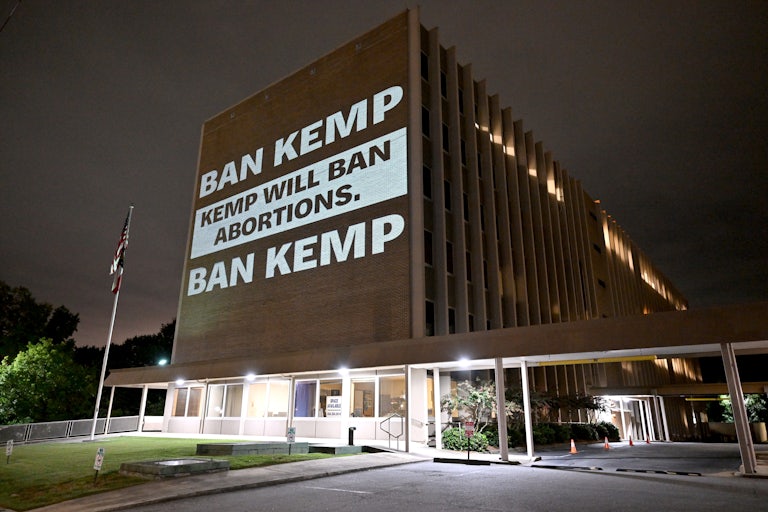 Derek White/Getty Images for MoveOn
Maternal mortality in Georgia will increase by nearly a third if the state bans abortion, a new study has found, which it could well do if Brian Kemp is elected governor next week.
A study by researchers at the University of Colorado Boulder found that if abortion is banned in Georgia, maternal mortality will increase 29 percent. If the procedure is banned nationwide, then maternal mortality will rise 24 percent overall.
Maternal mortality among Black people nationwide will skyrocket 39 percent.
The United States already has the highest maternal mortality rate among developed nations, and Georgia has the second-highest rate in the country, of 48.4 deaths out of 100,000 births, according to the World Population Review.
It is second to Louisiana, which has 58.1 deaths out of 100,000 births.
Abortion has become a major issue since the Supreme Court overturned Roe v. Wade. Several states, including California, Michigan, and Vermont, will vote in midterms next week on whether to codify abortion in their state constitutions. Kansas voted over the summer to keep abortion protections in the constitution.
Georgia has enacted one of the strictest abortion laws in the country (short of an outright ban). The procedure is banned after six weeks, before many people know they are pregnant, and there are many restrictions on access before the deadline.
During a recent debate, Republican gubernatorial candidate Brian Kemp refused to say whether he'd sign even more restrictions into law if elected.
His opponent, Democrat Stacey Abrams, was quick to seize on his non-answer: "Let's be clear, he did not say he wouldn't," she warned. "Under this governor, women are in danger."
Abrams highlighted several of his stances, such as supporting the cruelly restrictive Texas abortion law that offers financial rewards for turning in someone who had an abortion, and signing a law that would allow investigations into pregnant people who miscarried.
"Abortion is a medical choice," Abrams stressed during the debate. "That is a decision that should be made between a doctor and a woman."
"There should not be arbitrary timelines set by men who do not understand biology," she said, adding that 82 of Georgia's 159 counties do not have an OBGYN.
But as the CU Boulder report shows, the situation in Georgia looks set to get much worse.