Thousand of Airport Workers Across the Country Strike
The workers are pushing for a bill in Congress that would bring better pay and working conditions.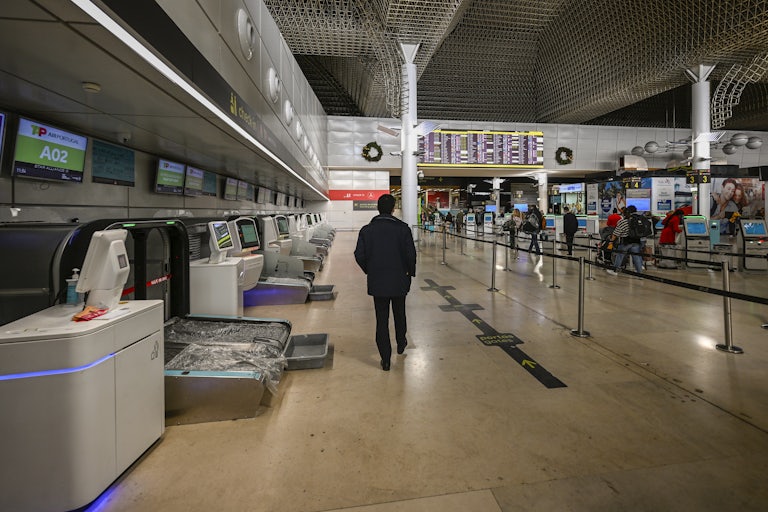 Photo by Horacio Villalobos/Corbis/Getty Images
Few passengers are seen in Humberto Delgado International Airport, due to a strike called by the National Union of Aviation Flight Personnel, or SNPVAC, on December 8, in Lisbon, Portugal, in solidarity with U.S. airport workers.
On Thursday, thousands of airport workers from at least 15 American airports rallied to call for better working conditions. In three airports—Boston Logan International, Chicago's O'Hare International, and Newark Liberty International—workers went on a full strike, calling attention to unfair labor practices by their employer, Swissport USA and Swissport Cargo, including poor working conditions and improper payment and wage theft.

The workers are pushing Congress to pass the Good Jobs for Good Airports Act. The bill would introduce national wage and benefit standards, setting a $15 minimum wage for all airport service workers (including those working at vendors like restaurants or retail stores) and baseline benefit standards for paid time off and health care.
Introduced in June by Representative Jesús "Chuy" Garcia and Senator Ed Markey, the bill holds 15 Senate and 89 House co-sponsors. There has been little Republican support for the bill, even as Republicans last week pretended to care about America's rail workers.
Senators Markey, Blumenthal, Schumer, as well as Representative Garcia and D.C. House Delegate Eleanor Holmes Norton appeared alongside workers on Thursday in Washington, D.C., lobbying for the bill's passage.
Resonance with the rail workers' struggle can't be missed. "We don't get enough paid time off. We're supposed to get a week of paid sick days. But we're so short-staffed they make it almost impossible for you to take a sick day," said Omar Rodriguez, a ramp agent and cabin cleaner employed by Swissport USA, in a statement provided by the SEIU. "We get blamed for delays, but we're only given a few minutes to clean and don't have enough people to do the work."

"No one wants to stay because the pay and benefits are not enough for what we do," he added.