WNBA Star Brittney Griner Released From Russian Prison
Griner was released by the Russian government and is coming home, 10 months after her arrest.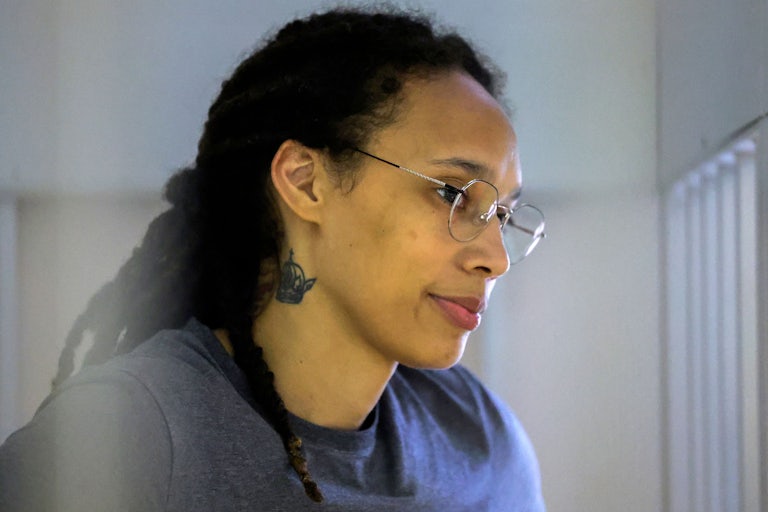 EVGENIA NOVOZHENINA/POOL/AFP/Getty Images
WNBA star Brittney Griner has been released by the Russian government and is coming home.
She was released Thursday in a one-for-one prisoner swap with Viktor Bout, a former Russian military officer who was serving a 25-year sentence in the United States for conspiring to kill Americans, exporting missiles, and conspiring to help a terrorist organization. The Russian government has sought his release for a decade, since his 2012 sentencing in New York.
Griner was arrested at a Moscow airport in February on drug-smuggling charges. She testified that she inadvertently packed cannabis oil in her luggage and in August was sentenced to nine years in prison.
President Biden spoke Thursday morning shortly after 8:30 a.m. from the White House in the company of Griner's wife, Cherelle. From NBC's Peter Alexander:
Cherelle said, "The most important emotion I have right now is sincere gratitude for President Biden and his entire administration." Biden said: "Britney is an incomparable athlete. She endured mistreatment and a show trial in Russia with characteristic grit and integrity." Biden said he'd been working for her release since July and mentioned Paul Whelan, a former U.S. Marine still detained in Russia on espionage charges. NBC's Andrea Mitchell reported Thursday morning that the Biden administration pushed hard for Whelan's release after four years in prison, but Russia wouldn't budge.
Biden will surely take some heat from the right wing for releasing Bout, who had a long record of arms dealing and supporting terrorist groups like Colombia's FARC before he was convicted. Preet Bharara, the U.S. attorney who prosecuted Bout, said at the time of his sentencing: "Viktor Bout has been international arms-trafficking enemy number one for many years, arming some of the most violent conflicts around the globe."
But make no mistake. This is a great day—obviously for Brittney and Cherelle, for the Biden team, for the United States, and for justice.