Senate Passes Respect for Marriage Act Protecting Marriage Equality
The vote on the bill, which will protect same-sex marriage and interracial marriage, was 61–36.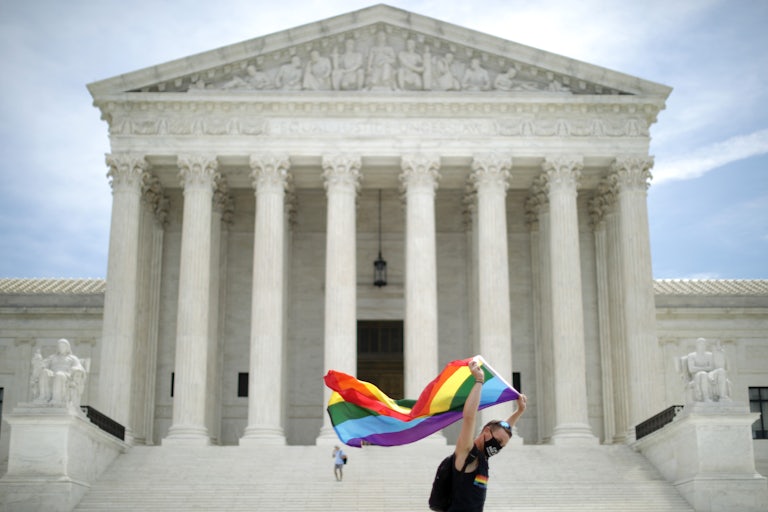 Chip Somodevilla/Getty Images
The Senate voted 61–36 Tuesday to approve a bill enshrining marriage equality.
The Respect for Marriage Act, which applies to both same-sex and interracial marriage, would require that two people be considered married so long as their marriage was legal in the state in which it was performed. The act also repeals a 1996 law defining marriage as between a man and a woman, which has remained on the books despite being declared unconstitutional by the Supreme Court in 2015.
Thirty-six Republican senators voted against the bill, including Mitch McConnell, who is in an interracial marriage.
Many civil rights activists have warned that after the Supreme Court overturned Roe v. Wade in June, same-sex marriage may be next on the chopping block.
The Senate voted 62-37 on November 16 to advance the bill to a final vote. The chamber had added an amendment to the bill clarifying certain protections for religious organizations.
It will now return to the House of Representatives before President Joe Biden can sign it into law.
The act already passed the House over the summer, although 156 voted against it—including a shockingly hypocritical nay vote from Representative Glenn Thompson, who attended his son's same-sex wedding just a week later.
Critics of the bill say, though, that it does not go far enough with LGBTQ protections. Part of the amendment says that religious organizations do not have to marry same-sex couples, which would allow groups to continue to be homophobic, and the bill does not require all states to actually issue same-sex marriage license.