Paul Gosar Deletes Tweet Supporting Trump's Call to Terminate the U.S. Constitution
Republican Representative Paul Gosar announced on Twitter that he agrees with Donald Trump, and then backtracked an hour later.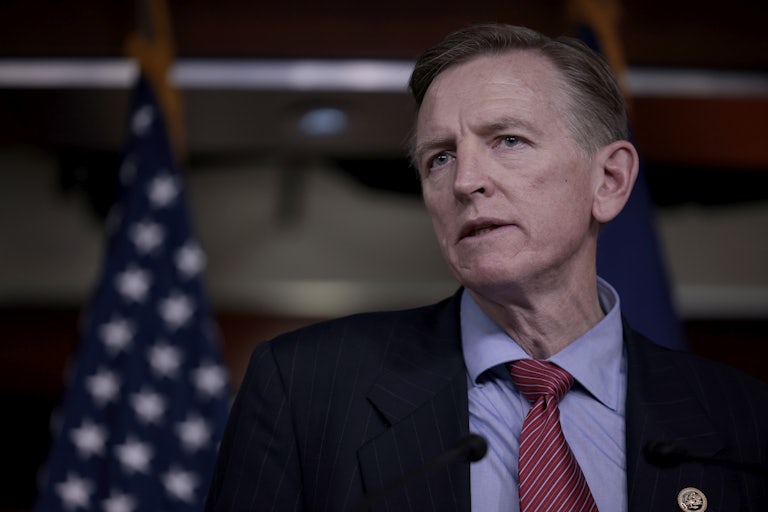 Anna Moneymaker/Getty Images
Republican Representative Paul Gosar
Republican Representative Paul Gosar on Wednesday endorsed Donald Trump's call to terminate the U.S. Constitution and overturn the 2020 election—and then deleted the post an hour later.

In his latest effort to reverse his loss, Trump demanded over the weekend to terminate the Constitution, baselessly citing "WIDESPREAD FRAUD & DECEPTION" on Truth Social. Republicans have been horrifically slow to condemn him, and Gosar went a step further and publicly agreed with him on Twitter.
A few Republicans have spoken out against Trump's demand, but they are mostly all moderates or already vocal critics of the former president. Representatives Liz Cheney and Adam Kinzinger, the only Republicans on the House January 6 investigative committee, were explicit and forceful with their condemnations, but they are both outgoing members of Congress.
Although the Republican Party at large seems to be turning on Trump, he still holds significant sway in Congress and among the American public. Anyone seen as going against him risks losing the support—and provoking the wrath—of his rabid fan base.
The list of his outrageous behavior in just the past few months continues to grow, and yet Republicans are loath to criticize him lest they lose his favor.