Manchin, Whose State Was Built by Unions, Rejects Paid Leave for Rail Workers
Senator Joe Manchin voted to impose a labor agreement on rail workers, but not give them seven paid sick days. He was the only Democrat to do so.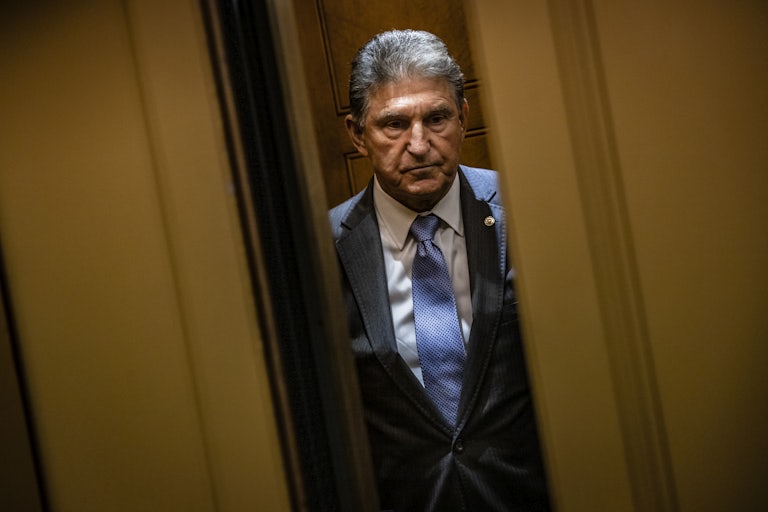 Samuel Corum/Getty Images
Senator Joe Manchin of West Virginia, a state built by union workers, voted against providing paid sick leave to rail unions on Thursday.
Four out of 12 rail unions—representing the majority of rail workers—have been threatening to strike, after a labor deal brokered by President Joe Biden failed to meet their demands for paid sick leave. Workers currently get zero paid sick days. Biden, who has touted himself as a "pro-labor president," called for Congress to impose the deal anyway and block the strike, saying it would cause too much economic damage.
The Senate, however, voted to impose the labor agreement but not add the paid leave amendment. Six Republicans voted in favor of the amendment. Manchin was the only Democrat to vote against it. He also voted to block the strike. The bill will now go to Biden for his signature.
Manchin had expressed misgivings about the amendment on Wednesday, saying he would need to read it over first. But he did say he would vote for "anything to prevent a strike that will enhance inflation and cause economic harm to our country."
Although Manchin has become known for consistently throwing a wrench into Biden's plans, he frustratingly seems in line with the president this time. Despite being known as both "Union Joe" and "Amtrak Joe," Biden did not push for the paid leave amendment after its success in the House.
"The President of course, of course he supports paid sick leave for all Americans, including rail workers, but he does not support any bill, or amendment, that will delay getting this bill to his desk by this Saturday," White House spokesperson Karine Jean-Pierre told reporters after the House vote.
Manchin's votes sting even more considering his state's long history with union labor. Although union membership in West Virginia is currently about 10.7 percent, a little lower than the national average, the state's unions are still strong for a right-to-work state.
West Virginia union workers helped build the state's economy—particularly in coal mining—and have a long history of agitating for better working conditions.