Here Are the Five Sickest Reactions to the Trump Verdict
Trump was found liable of sexual assault, and Republicans are doing whatever they can to excuse it.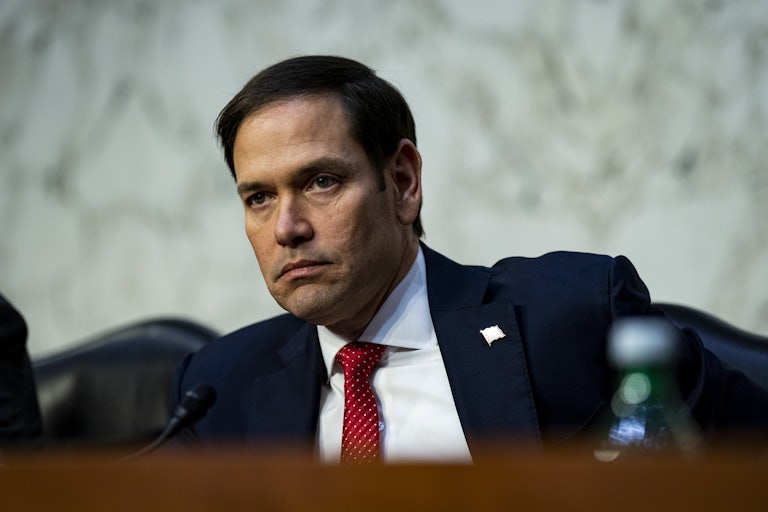 Al Drago/Bloomberg/Getty Images
Florida Senator Marco Rubio
More and more Republicans have actually begun to expand their expressed discomfort with, or outright disdain for, Donald Trump after he was found liable for sexual abuse and defamation against E. Jean Carroll on Tuesday.
But, of course, there are swarms of Republicans still tripping over themselves to expose themselves as disgusting, both in their docility and in their demonic defenses—or even lauding—of Trump and his now affirmed sex-pest behavior.
Kentucky Attorney General Daniel Cameron—who already has shown his meek deference toward those in power by not charging any police officer for killing Breonna Taylor—expressed little woe for Trump.

Alabama Senator Tommy Tuberville said the verdict holding Trump liable for sexual abuse "makes me want to vote for him twice."
Florida Senator Marco Rubio—who ran against Trump in 2016 and now acts as his cute little lapdog—assailed the jury and case as a "joke." Very cool for a sitting U.S. senator to dismiss the entire legal system (and the regular Americans who did their part in participating in it) not on any systemic issues but because Trump was found responsible for sexually harassing someone.
Rubio also dismissed Trump being found liable for defaming Carroll. "If someone accuses me of raping them and I didn't do it, and you're innocent, of course you're going to say something about it.… It was a joke."

It wasn't a joke—and if Trump wanted to "say something," why didn't he defend himself at his trial?
Wyoming Senator Cynthia Lummis simply put her hands up, as if she has no agency as one of the 0.00016 percent of Americans who are in Congress.

She said the ruling does not impact her decision on who to support in 2024. "I'm going to stay neutral," the Wyoming Republican said when asked whether she has anything to say about her party's front-runner being found liable for sexual abuse.

House Majority Leader Kevin McCarthy—now juggling between being asked about Trump being charged with sexual abuse and defamation and George Santos being charged with 13 counts of fraud and lying to Congress—elected to keep his chest out and chin up by simply ignoring questions about Trump's charges.

"Sir, what's your reaction to President Trump being found liable in the E. Jean Carroll case?" a reporter asked him in the halls of Congress. McCarthy pursed his lips and kept walking.