Twitter Brought Back More Nazis Than Just Nick Fuentes
Nick Fuentes was suspended from Twitter, less than a day after his account was reinstated. But don't let that overshadow all the other Nazis that have made their return.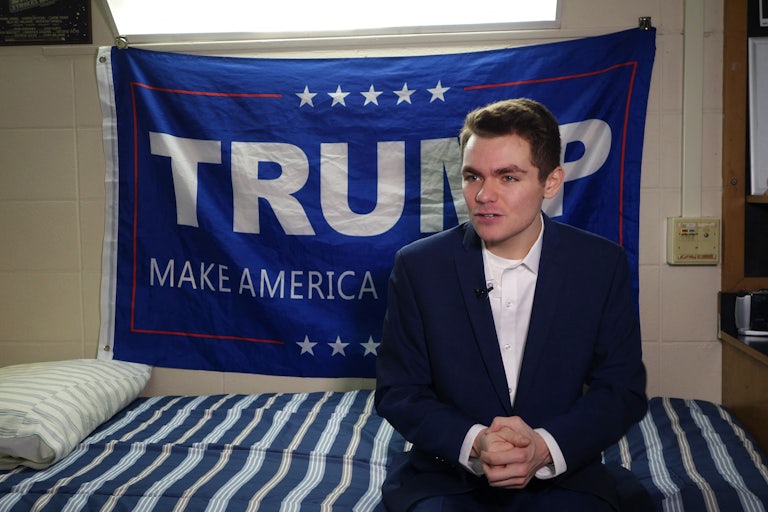 WILLIAM EDWARDS/AFP/Getty Images
Nick Fuentes
One day after Twitter brought back Nazi, white nationalist, and Taliban fan Nick Fuentes to its platform, the company was compelled to ban him; Fuentes spent his inaugural evening back on Twitter proclaiming his "love" for Hitler, talking about the Unabomber's "salient point," and tweeting antisemitic conspiracies about Jews secretly controlling Western governments.
"Stop the Steal" organizer and Fuentes ally Ali Alexander, implicated in numerous investigations for his role in seeking to overturn the 2020 election results, was also suspended Wednesday.
While Fuentes and Alexander are gone, however, plenty of other inflammatory and dangerous accounts remain on Twitter. Neo-Nazi website Daily Stormer founder Andrew Anglin, who was reinstated in December, is still happily active, posting homophobic and antisemitic tweets in routine, and A/B testing whether his "anti-woman stuff" plays well with the Twitter algorithm. He expressed disappointment after Fuentes was suspended once again, tweeting, "Oh come on."
Programmer Travis Brown, who tracks Twitter suspensions, noted that several other accounts were reinstated Tuesday.

These accounts, and others like them, come with records that at best are troublesome or in violation of content policies and, at worst, echo the same kind of rhetoric that Anglin and Fuentes espouse. Patrick Howley, for example, has complained about too many Black people at the Country Music Awards and written that "Zionist and Chinese institutions are genociding white people."
The haphazard reinstatements—and subsequent bans, as if Twitter couldn't have anticipated Fuentes behaving exactly as he does on every other platform he still is on—offers little faith in Twitter's content and safety policies.
It's been nearly two months since Musk tried welcoming Kanye West, or Ye, back to Twitter; Musk had to resuspend West fairly quickly after the disgraced artist appeared alongside Fuentes on Alex Jones's show to peddle Nazi propaganda, Holocaust denialism, and support for Hitler. This is not Twitter's—or its new leadership's—first rodeo. And still, the company is tinkering with reinstating as many inflammatory accounts as possible and actually having a good deal of them stay while suspensions like Fuentes's and West's soak up most of the attention.
All this comes while "journalists" like Matt Taibbi and Bari Weiss continue their tired charade of receiving Musk's own files and wrapping them up as investigations into Twitter's policy practices under the evergreen "Twitter files" project. The project has had much of its source material come from the now CEO, who has had more than his fair share of mismanagement. On Tuesday, The Intercept revealed how Musk's Twitter, in coordination with the Indian government, is censoring a documentary critical of right-wing Indian Prime Minister Narendra Modi.
Musk's Twitter is indeed a win for free speech and transparency; Twitter is standing for free and maximized dissemination of vile hate, and transparently displaying how it's doing so.