The Butler Did It: Trump Aide Walt Nauta Also Indicted Over Classified Docs
The legal case against Donald Trump keeps growing.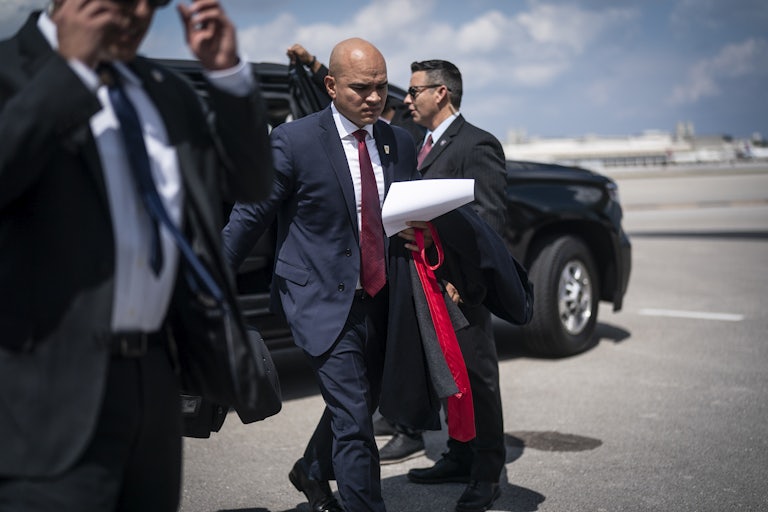 Jabin Botsford/The Washington Post/Getty Images
Walt Nauta
Donald Trump's aide Walt Nauta has been charged as part of the investigation into the former president's alleged mishandling of classified documents.
Trump on Thursday became the first former president to be federally indicted when he was charged with seven counts, which reportedly include violations of the Espionage Act, obstruction, and making false statements. Other charges are expected against some of his allies, but it is not yet known what those charges might include.
The charges against Nauta have not yet been revealed, but he has been a particular focus of special counsel Jack Smith's team. Investigators suspected Nauta had helped move and possibly hide classified documents stored at Mar-a-Lago.
Nauta joined Trump's team as a military valet at the White House, and he is one of the few remaining staffers from Trump's time in office. After Trump lost the presidency, Nauta went to work for him at Mar-a-Lago, eventually leaving the military to stay on as a civilian aide. Nauta has quickly become Trump's right-hand man: At the White House, he would reportedly stand nearby, ready with whatever Trump needed, be it a coat, a drink, or a piece of paper. Now he shadows Trump on all of his campaign appearances.
He also moves boxes at Mar-a-Lago. Prosecutors obtained notes from one of Trump's lawyers, Evan Corcoran, which revealed that Trump and Nauta knew exactly where and when Corcoran was planning to search for the documents at Mar-a-Lago.
Nauta had previously testified that Trump asked him to move boxes out of the storage room both before and after the subpoena was issued. The Guardian reported that prosecutors could be investigating whether Nauta knew exactly what was in the boxes he was moving.
At one point, another Mar-a-Lago employee helped Nauta move some of the boxes. That second employee, while draining the resort pool in October, flooded a room full of computer services used to store surveillance footage from around the property. It is unclear whether the flood was accidental or intentional.
According to Corcoran's notes, Nauta had also offered to help him look through the boxes in the storage room, which Corcoran declined. But he took breaks during the multiday search, leaving the storage room unattended multiple times.
Trump lashed out Friday at the Department of Justice over Nauta's indictment, calling the department employees "thugs" on Truth Social. "They are trying to destroy his life, like the lives of so many others, hoping that he will say bad things about 'Trump,'" he wrote. "The FBI and DOJ are CORRUPT!"
This story has been updated.