Here Is the Moment Cops Arrested a Journalist at the Jordan Neely Protest
Because what's this story without a dash of police violence?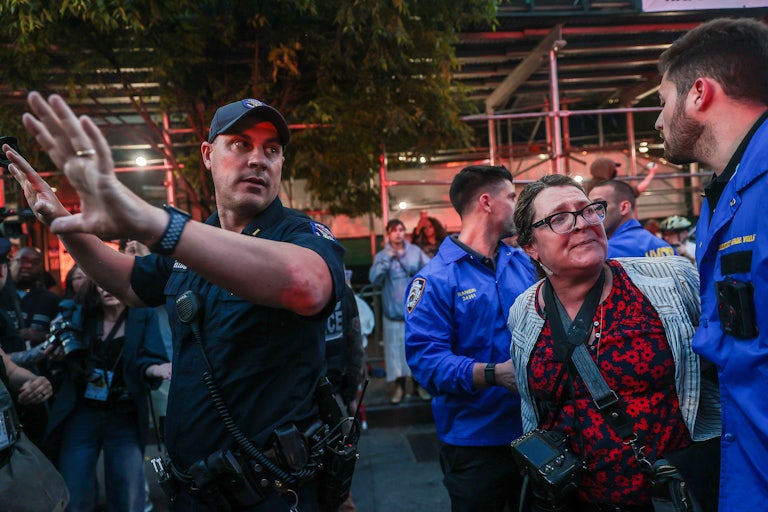 Selcuk Acar/Anadolu Agency/Getty Images
Photojournalist Stephanie Keith is arrested at a Jordan Neely vigil and protest in New York on May 8.
On Monday night, residents of New York City gathered in downtown Manhattan for a vigil and protest in honor of Jordan Neely, a homeless man choked to death by 24-year-old Daniel Penny on the city's subway.
And of course, in a story already rife with injustice, the police had to make sure that their failings were front and center. Longtime photojournalist Stephanie Keith was among 11 people arrested at the protest.
The police chiefs have not yet clarified what "assaulted themselves" exactly means.
Video shows Chell himself barking at his officers to "lock her up," after Keith simply stepped into the sidewalk to take a photo.
In Keith's case, Chell said at the conference, the photographer faces charges of disorderly conduct and interfering with three arrests. The New York Daily News reports that Keith was released and given a summons later in the night.
Keith's own words, and video open for all of us to see, undermine the police's account of what happened.
"I was trying to photograph what I thought was an arrest, but I never even got a chance to see since they grabbed me as soon as I tried to photograph," she told the Daily News. "I said, 'I'm press,' and they said, 'You're not, you're arrested.'"
It's almost too perfect. Penny has yet to be charged for killing Neely—an incident documented clearly on video. The police instead questioned the murderer and released him back onto the streets with little ado. Meanwhile, also on video, one of the most powerful police officers in New York City ferociously commanded his subordinates to lock up a journalist who was simply documenting his officers responding with more force to protesters than to a murderer.
Indolent thinkers often call any number of things "Orwellian," but if anything warrants the oft-used designation, it's the lack of arrest of someone caught on film committing murder and the active arrest—also caught on film—of a photojournalist trying to record the police state violently repressing people who were protesting that injustice.