Mark Your Calendars for the Next Big Trump Indictment
The Georgia prosecutor investigating Trump's efforts to overturn the 2020 election has signaled when in the summer new charges will likely come.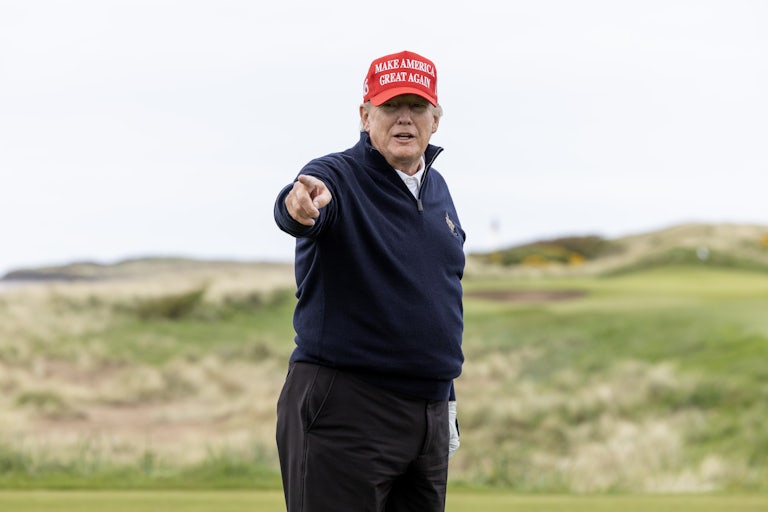 Robert Perry/Getty Images
Donald Trump has been indicted on 34 felony counts of falsifying business records in efforts to pay hush money to porn actress Stormy Daniels, who he was alleged to have an affair with. He has been found civilly liable for sexually abusing and defaming E. Jean Carroll. And now, the twice-impeached former president is looking down the barrel of another set of criminal charges to come as soon as early August.
The New York Times reports that the Georgia prosecutor leading an investigation into Trump and his allies' efforts to overturn the 2020 election has announced that most of her staff will be working remotely during the first three weeks of August. She has also asked judges in an Atlanta courthouse not to schedule trials for a portion of that time, as she looks to finally bring charges in the investigation.

Fulton County District Attorney Fani T. Willis sent out the requests and plans in a letter addressed to 21 county officials, including the chief county judge and county sheriff, the Times reports.
"Thank you for your consideration and assistance in keeping the Fulton County Judicial Complex safe during this time," Willis wrote, making explicit what the remote work policy and requests were related to. She has already asked local law enforcement and the FBI to help with security in and around the courthouse as well.
Though the Times doesn't say this, it's possible the Georgia indictment won't come until August, in order to give special counsel Jack Smith the space to bring his own charges against Trump first. As a reminder, Smith is also investigating Trump's efforts to overturn the 2020 election, as well as his mishandling of classified documents.
The investigation into whether Trump and company interfered with the 2020 election in Georgia has been ongoing for over two years. A special grand jury that heard evidence in the case for some seven months has recommended indictments of more than a dozen individuals—and Trump is highly suspected to be among the recommended culprits.
Willis's security concerns are in direct response to Trump's own attacks on the slate of investigations being led all over the country into his and his allies' conduct. He and the right have viciously attacked Manhattan District Attorney Alvin Bragg, Stormy Daniels, E. Jean Carroll, and those in the Georgia investigation as well. In Willis's letter to the FBI last year, she noted that Trump had called the investigators "vicious, horrible people" at a rally and encouraged protests in cities where he was being investigated.
Trump is 0–2 in just the most recent investigations he has faced. And given how much paper trail has already been exposed showing Trump and his allies' widespread efforts to overturn the election, it is not unlikely that the Georgia investigation will present insurmountable charges once again.