Here Are the Democrats Who Voted to Let D.C. Cops Use Neck Restraints and Hide Body Cams
A handful of Democratic senators voted with Republicans to reject Washington, D.C.'s police reforms, spitting in the face of its right to self-government.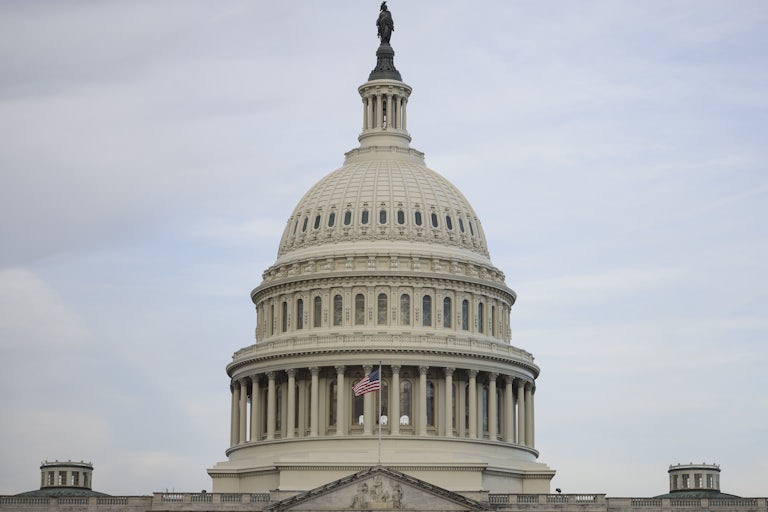 Kevin Dietsch/Getty Images
On Tuesday, eight Democrats and independents joined Senate Republicans in voting to overturn Washington, D.C.'s police reforms.
Senators Joe Manchin, Jon Tester, Jeanne Shaheen, Catherine Cortez Masto, Maggie Hassan, Jacky Rosen, Angus King, and Kyrsten Sinema all joined in the effort to overrule time and work that residents and officials have invested to make their city safer.
The new resolution to overturn D.C.'s local rule was introduced by Republicans in March, just hours after Biden and Congress killed a different bill reforming D.C.'s criminal code (that, more than anything else, updated codes that hadn't been dusted off in over 100 years).

The resolution aims to overturn an array of reforms made in the aftermath of a string of brutal police killings nationwide. Among the reforms are provisions outlawing the use of neck restraints, like that used by Minneapolis Police Officer Derek Chauvin to kill George Floyd in May 2020.
D.C.'s reforms also call to make body-camera footage of officer-caused deaths, or serious uses of officer force, more accessible to the public. They moreover expand membership and inclusion on governing bodies like the Police Complaints Board and Use of Force Review Board—small asks given how often police departments get away with sweeping misconduct and outright violence under the rug.
The reforms also ban employment of new officers if they were previously determined by other agencies to have been responsible for serious misconduct, or if they were forced out of previous jobs for "disciplinary reasons." Nothing radical about having baseline standards for what type of person is allowed to be empowered to enforce the law; whatever happened to "with great power comes great responsibility?"
Biden can—and is expected to—veto the Senate vote. Consequently, some shrewd pundits have characterized it all as a "messaging vote," a low-stakes vote that allows conservative senators to say, "Look, we didn't support this radical bill," come election time. After all, Biden will veto it, so what does it matter anyway?
But what is the "message" to be had here, really? What does it tell voters that eight Democratic caucus members joined this farce to overturn D.C.'s democratic will? What does it tell voters that these so-called Democrats found it prudent to bend the knee to bad-faith right-wing attempts to obstruct even moderate checks on unaccountable police forces? If politics is meant to be about making an argument, about convincing people and rallying them to your side, the only message communicated by this cowardly vote is that D.C.'s autonomy is indeed up for debate, that having baseline standards for what the police can and can't do to the citizenry is somehow an out-of-field demand, and that you as an elected official lack the conviction to stand for anything at all.
So, sure, clever punditry class: Call it a "messaging vote." Meanwhile, as Democrats continue to allow these right-wing attacks to appear just part of reasonable debate, actual reforms will remain as moderate as this D.C. police reform actually was. In the eyes of the media and political class, the goalposts will remain the same, and the bounds of what change we can actually strive for will continue to narrow. And all of it because a handful of feckless Democrats are allowed, even encouraged, to cower and join out-of-touch attacks on even modest changes to our violent, unaccountable system of justice and power.