A Tough Question for Republicans: Investigate Child Labor—or Promote It?
The House seems to be passing on an opportunity to investigate a child labor scandal.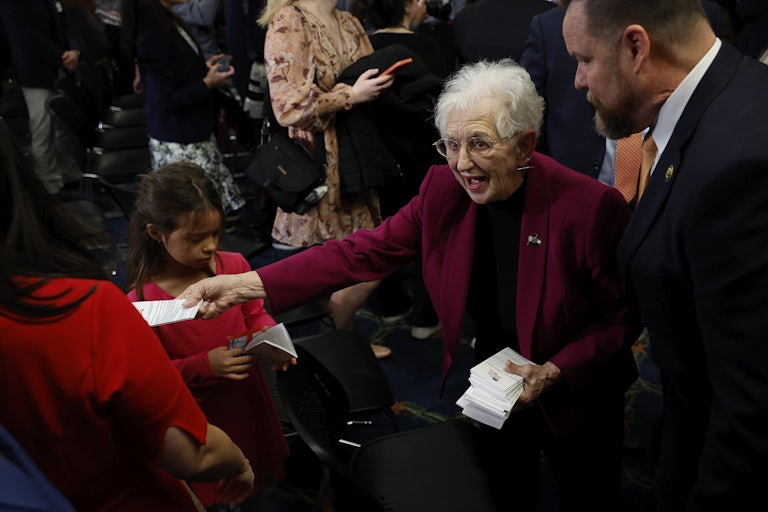 Chip Somodevilla/Getty Images
The House is taking a pass on probing a Biden administration child labor scandal. Here's the reason why.
One of the more Gothic recent developments in the Republican Party is its positioning itself as the party of child labor. In February, The New York Times handed congressional Republicans, practically on a silver platter, a camera-ready Biden administration scandal: About 100 migrant children in 20 states "described [performing] jobs that were grinding them into exhaustion" in flagrant violation of child-labor laws. The Times followed up in April with a report blaming the situation on ineffective coordination between the Labor Department, the Health and Human Services Department, and the Biden White House. The Labor Department reported a 37 percent increase in child-labor violations in 2022. Surely House Republicans would set aside their investigations into various phony Biden administration scandals and shift their attention to this very real one.

It didn't happen. It fell this week to the senior Democratic member of the House Education and Labor Committee, Bobby Scott, to write a letter to GOP committee chair Virginia Foxx urging her at long last to schedule a hearing on "the illegal employment of children in unsafe conditions." Scott released the letter to the press Thursday afternoon.
Why won't Foxx reach for this low-hanging fruit? Partly because, as Scott notes, it would spotlight inadequate funding for federal agencies like the Labor Department's wage and hour division and the National Institute for Occupational Safety and Health, and Republicans prefer to starve those agencies. But mostly Foxx is resisting because Republicans are pressing hard at the state level to deregulate child labor. More than a dozen state legislatures have introduced such bills, and four states—New Hampshire, Arkansas, New Jersey, and Iowa—have enacted them. That's liable to come up in a congressional hearing on the scourge of child labor. Better to take a pass.