Abortion Will Be Almost Entirely Illegal in Indiana
Friday has not been a good day in America's courts.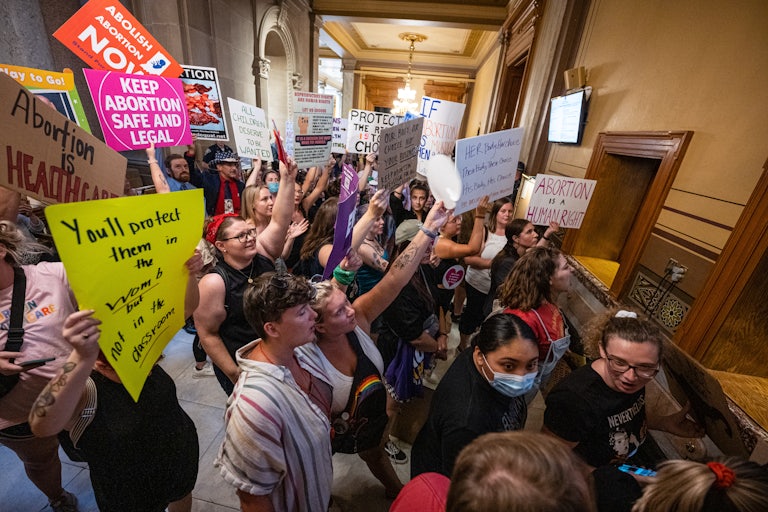 Photo by Jon Cherry/Getty Images
Abortion-rights protesters in Indiana's state Capitol last year
On Friday, the Indiana Supreme Court ruled that the state's abortion ban is constitutional, clearing the way for a ban passed by Republicans last year to take effect. The ban was the first in the nation to be passed in the aftermath of the United States Supreme Court overturning Roe v. Wade.

Indiana's highest court superseded a county judge who ruled that the ban likely violates the Indiana Constitution. The previous ruling had stopped the ban, and left residents able to obtain abortions up to 20 weeks.

But with the state court's ruling, that injunction is now gone.

The court wrote that while the state constitution "protects a woman's right to an abortion that is necessary to protect her life or to protect her from a serious health risk," the "General Assembly otherwise retains broad legislative discretion for determining whether and the extent to which to prohibit abortions."

If the ban proceeds as planned, it will shut down all seven abortion clinics in the state and outlaw virtually all abortions. The ban only includes exceptions for abortions in cases of rape or incest before 10 weeks post-fertilization, to protect the life of the mother, or if a fetus is diagnosed with a lethal condition.

Any doctor who performs an abortion outside of those restrictive provisions would lose their medical license. Some Republicans like State Senator Mike Young have complained the bill's enforcement provisions against doctors are not strict enough.

The abortion ban still faces another legal challenge on grounds that it violates people's religious beliefs; the Supreme Court has left the argument to be considered by the state's Court of Appeals for now. While a county judge has granted an injunction vis-à-vis that case, it reportedly only applies to the specific plaintiffs in the case.

The ban's upholding comes after a 10-year-old Ohio rape victim traveled to Indiana for an abortion after Ohio banned abortions at the first detectable "fetal heartbeat."