What Is Robert F. Kennedy Doing in the Democratic Primary?
Republicans love him. Democrats? Not so much.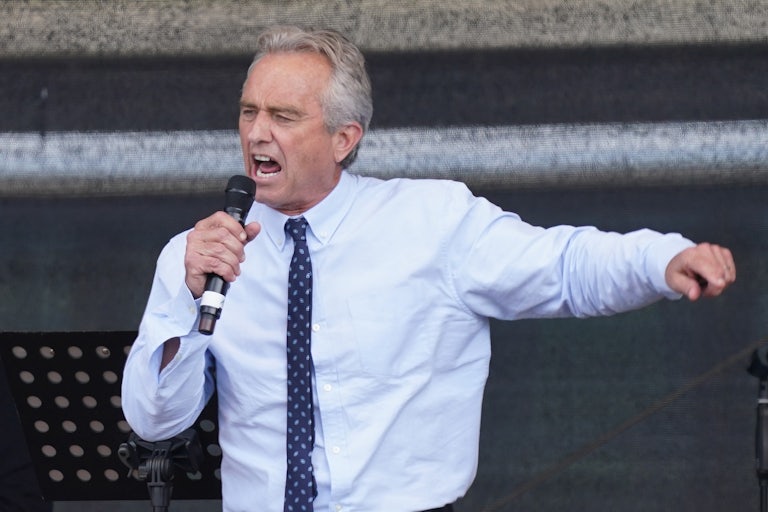 Photo by Sean Gallup/Getty Images
Robert F. Kennedy Jr. theoretically has one big thing going for him in the Democratic presidential primary: He is a Kennedy. Possessing one of the most famous names in Democratic politics is a clear boon, even if Kennedy Jr.'s bid for the party's nomination is a long shot given that the current occupant of the White House, Joe Biden, is a Democrat. Still, Kennedy Jr.'s name has given him a boost in this early stage of the Democratic primary: With many voters looking for alternatives to the octogenarian Biden, Kennedy Jr. surged in the polls, hitting the high teens in some cases.
The big problem with Kennedy Jr.'s candidacy, however, isn't just that he's running against a president most Democratic voters like. It's that he's basing much of his candidacy around fringe issues that are directly opposed to the views of most of the Democratic electorate. For decades, Kennedy Jr. has pushed a number of dangerous and unfounded conspiracy theories about the safety of vaccines and the Covid-19 vaccine in particular. Democratic voters like the vaccine—and vaccines more broadly—a lot. Kennedy Jr. has similarly campaigned aggressively against continued support for Ukraine, while arguing to end the war on terms that would be highly favorable to Russia—yet another viewpoint that is wildly out of step with his ostensible party. He has meanwhile appeared with a number of fringe figures, like Joe Rogan, and accepted kudos from Tucker Carlson, among other right-wingers. Donald Trump recently gave him a pat on the back, calling him a "commonsense guy."
On the right, particularly on Fox News, Kennedy Jr. has been presented as an insurgent and a threat to Biden's renomination. But that simply isn't the case. Kennedy Jr.'s popularity has actually fallen as he's received more media coverage. And it's easy to see why: Much of the hype is coming from the right. And much of the coverage is focusing on the many, many ideas Kennedy Jr. has that are not shared by his party. In recent weeks, the percentage of Democrats holding strongly favorable opinions of RFK Jr. fell from 20 percent to 14, while those with strongly unfavorable opinions rose to 22 percent, per YouGov polling. Biden currently leads him by 63 points among Democratic voters, though he only bests him by 44 among independents.
Robert F. Kennedy Jr. is a conspiracy theorist and an anti-vaxxer running on ending the war in Ukraine on pro-Putin terms. Still, he could make a dent in an election next year—provided he switches parties. He's running a decent campaign to become the Republican presidential nominee. He's running a terrible one to replace Biden at the top of the ticket.