Guess Who MAGA Mike Johnson Once Blamed for the Fall of Rome
Before he entered office, the future House speaker liked to go on serious anti-LGBTQ rants, new tapes reveal.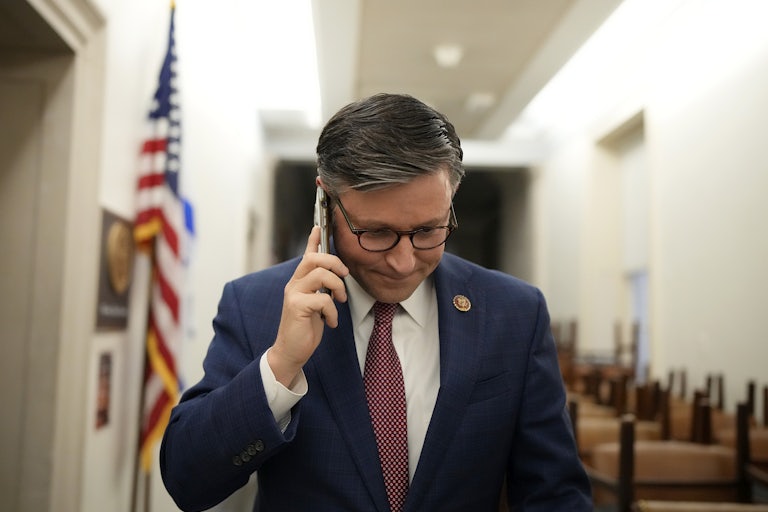 Drew Angerer/Getty Images
House Speaker Mike Johnson
Prior to launching his political career, Speaker Mike Johnson worked hand in hand with a group promoting "conversion therapy" for gay teens, actively promoting the criminalization of gay sex, and even blaming sexual orientation for the downfall of the Roman Empire.
According to a CNN KFile review that analyzed dozens of the Louisiana Republican's media appearances between 2006 and 2010, before he entered political office, Johnson spent years providing legal advice to Exodus International, an Orlando-based Christian conversion therapy organization whose practices resulted in quantifiable harm.
He also partnered with the group to run an annual anti-gay event called the "Day of Truth," a snub of the national youth movement protest "Day of Silence," which recognizes the silent suffering of LGBTQ teens who are bullied.
According to some experts, Johnson didn't just pander to anti-gay advocates, "he was the anti-gay and ex-gay advocate," Wayne Besen, the executive director of Truth Wins Out, told CNN.
"I mean, our race, the size of our feet, the color of our eyes, these are things we're born with and we cannot change," Johnson said during a radio promotion of the "Day of Truth" in 2008. "Homosexual behavior is something you do, it's not something that you are."
Johnson also claimed that sexual orientation contributed to the fall of the Roman Empire, although Hadrian, one of Rome's so-called "Five Good Emperors," publicly identified as gay.
"Some credit the fall of Rome to not only the deprivation of the society and the loss of morals, but also to the rampant homosexual behavior that was condoned by the society," Johnson said in 2008.

The group, Exodus International, shut down in 2013 after nearly four decades in business with a public apology for promoting the debunked practice, which aimed to make gay and lesbian teenagers straight.
In an email bannered "I'm Sorry," Exodus's president, Alan Chambers, wrote that he was apologetic for the "shame and guilt" participants endured.
"I'm sorry for the pain and hurt many of you have experienced," Chambers wrote. "I'm sorry that so many have interpreted this religious rejection from Christians as God's rejection. I'm profoundly sorry that many have walked away from their faith, and that some have chosen to end their lives."