What Is Happening With Mike Johnson's Money?
A new report reveals House Speaker Mike Johnson doesn't have a single bank account. So where the hell is his money?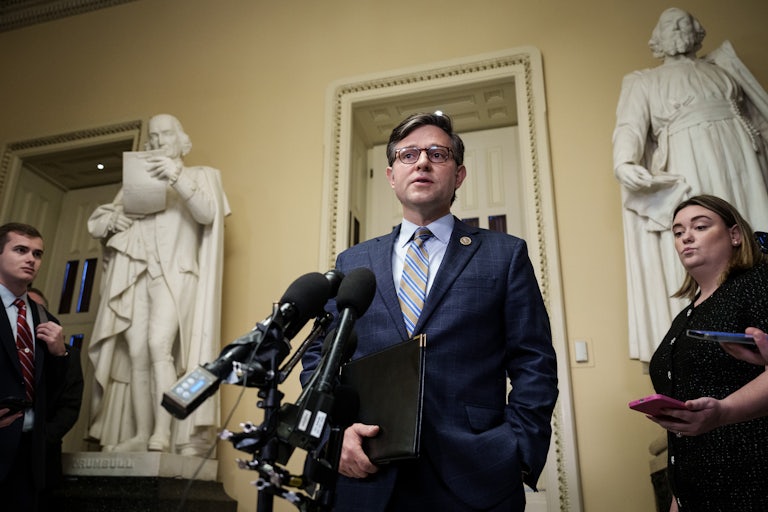 Drew Angerer/Getty Images
House Speaker Mike Johnson makes hundreds of thousands of dollars a year but apparently does not have a bank account, a new report revealed Wednesday.
Johnson was first elected in 2016 and has served on the Hill ever since. In all seven financial disclosure forms he submitted for those years, he has not mentioned holding a single bank account, The Daily Beast reported.
The House Ethics Committee requires members of Congress to disclose all of their household's bank accounts if the accounts each hold at least $1,000 and have a combined value of more than $5,000. Johnson has made at least $174,000 per year from the combination of his representative salary and any additional payments he received, such as from a teaching appearance. Johnson's wife has two streams of income, from two different employers.
But on his financial disclosures, Johnson has listed only one asset: a retirement account. In 2016, he listed a state government Fidelity account valued between $1,000 and $15,000. He transferred those savings to a Thrift Savings plan, a federal program, the following year. Johnson appears to have cashed out the entire account in 2021, because he lists no assets at all on his 2022 form.
Johnson's disclosure forms are remarkably sparse. He lists almost no travel reimbursements or gifts, and relatively little external income.
But Johnson does owe a lot of money. Every year, he has listed a mortgage on which he owes hundreds of thousands of dollars and a personal loan on which he owes tens of thousands. In 2019, he opened up a home equity line of credit, also worth tens of thousands of dollars.
It is, of course, possible that Johnson really has no bank accounts and just keeps all his money in sacks of cash hidden under his mattress. Another explanation could be that he has selective amnesia and has forgotten to disclose his assets for seven years. But several ethics experts offered another reason: Johnson is terrible at managing the money he makes and may be in massive debt.
"He owes hundreds of thousands of dollars between a mortgage, personal loan, and home equity line of credit, so where did that money go?" Jordan Libowitz, the communications director for the watchdog group Citizens for Responsibility and Ethics in Washington, told The Daily Beast. "If he truly has no bank account and no assets, it raises questions about his personal financial wellbeing."