CNN Host Left Stunned as IDF Confirms Israel Hit Refugee Camp With Airstrike
CNN's Wolf Blitzer seemed at a loss for words at the justification being used to bomb a refugee camp in Gaza.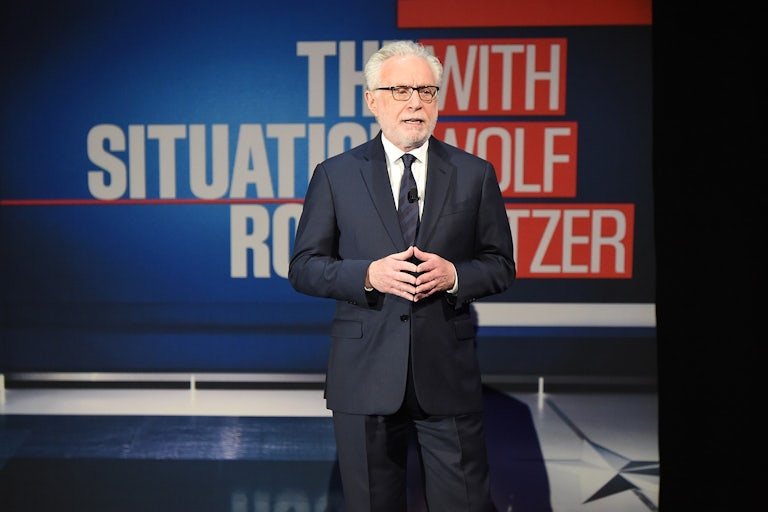 Kevin Mazur/Getty Images for Turner
CNN anchor Wolf Blitzer was left stunned on Tuesday as an Israel Defence Forces spokesman confirmed that Israel was responsible for the bombing of a refugee camp in Gaza.
Blitzer was doing an interview with IDF spokesman Lt. Col. Richard Hecht on the bombing of the Jabalia refugee camp earlier in the day. The IDF said the airstrike on the refugee camp killed Hamas's central Jabalya battalion, Ibrahim Biari, as well as a few other Hamas militants. The director of a nearby hospital estimated that at least 50 people were killed.

Blitzer pressed Hecht on the logic involved in Israel's decision to target the refugee camp.
"But even if that Hamas commander was there amidst all those Palestinian refugees who are in that Jabalya refugee camp, Israel still went ahead and dropped a bomb there attempting to kill this Hamas commander knowing that a lot of innocent civilians—men, women, and children—presumably would be killed?" Blitzer asked. "Is that what I'm hearing?"

"That's not what you're hearing," Hect replied. "This is a very complicated battlespace. There could be infrastructure there, there could be tunnels there. We're still looking into it."

"But you know that there are a lot of refugees, a lot of innocent civilians—men, women, and children—in that refugee camp as well, right?" Blitzer asked again.

"This is the tragedy of war, Wolf. We as you know, we've been saying for days, move south. Civilians who are not involved with Hamas, please move south."
"Yeah I'm just trying to get a bit more information. You knew there were civilians there, you knew there were refugees, all sorts of refugees, but you decided to still drop a bomb on that refugee camp attempting to kill this Hamas commander."