A List of Times Republicans Said Things Worse Than Rashida Tlaib—but Weren't Censured
Here are some of the extremist things Republicans have said about Palestinians, with zero repercussions.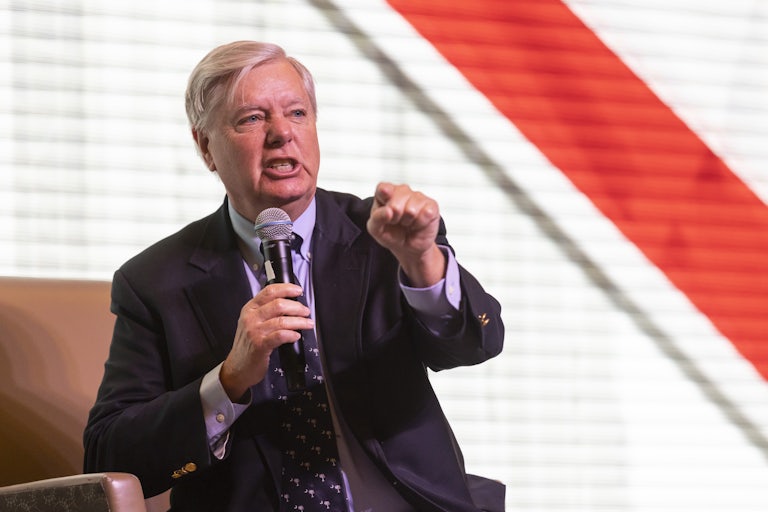 Sam Wolfe/Bloomberg/Getty Images
Senator Lindsey Graham last month called on Israel to "level the place."
Republicans—and 22 Democrats—voted to censure Representative Rashida Tlaib on Tuesday, formally reprimanding the Michigan Democrat for her vocal support of a cease-fire in the ongoing Israel-Hamas conflict. But was what she said any more inflammatory than the GOP's own rhetoric around the war?
Tlaib, the only Palestinian American in Congress, drew the ire of the Republican caucus for attending an October 17 Jewish-led sit-in on Capitol Hill calling for peace between Israel and Palestine. Since then, Republicans have called Tlaib a terrorist and claimed she promotes the destruction of Israel. They've also lambasted her for describing the chant "from the river to the sea" as an "aspirational call for freedom, human rights, and peaceful coexistence."
Here are some of the things her Republican colleagues have said:
Max Miller: "We're going to turn that into a parking lot."
In an October interview with The Ingraham Angle, Ohio Representative Max Miller attacked the presence of a Palestinian flag outside Tlaib's office while glibly suggesting that the nation would be "eviscerated."
"I don't even want to call it the Palestinian flag because they're not a state, they're a territory, that's about to probably get eviscerated and go away here shortly, as we're going to turn that into a parking lot," Miller said.
"For once, can people say they condemn calls to completely wipe out Palestinians? It shouldn't be hard to condemn genocidal rhetoric," slapped back Representative Ilhan Omar, retweeting Miller's comments.
Brian Mast compared Palestinians to "Nazi civilians."
Last week, Florida Representative Brian Mast compared "Palestinian civilians" to "Nazi civilians."

"There is not this far stretch to say there are very few innocent Palestinian civilians," Mast said on the House floor last Wednesday.
A Democratic resolution to censure Mast has been put on hold.
Lindsey Graham: "Level the place."
Republicans on the other side of Congress have proved equally incendiary in their analysis of the conflict. In an appearance on Fox News's Hannity, Senator Lindsey Graham said that Israel should "level the place."
"We're in a religious war here. I am with Israel," Graham said. "Do whatever the hell you have to do to defend yourself. Level the place."
During a segment on CNN's NewsNight earlier this month, Graham said there's "no limit" to the amount of civilian deaths that would lead him to question Israel's military directive.
Tom Cotton: Israel can "bounce the rubble in Gaza."
In an interview with Shannon Beam on Fox News Sunday, Arkansas Senator Tom Cotton argued that the mass-bombing of Palestinian women and children is a justified counterattack since Hamas militants attacked women and children in the October 7 massacre in southern Israel.
"As far as I'm concerned, Israel can bounce the rubble in Gaza," Cotton said, voicing his support should the U.S. ally choose to assault already devastated areas.
This is nowhere near a comprehensive list—and none of these members have been censured. Republicans have also taken their opinions a step further, rallying behind a bill introduced last week by Representative Ryan Zinke that would revoke the visas and refugee status of a number of Palestinians living in the U.S.
In the month since Hamas militants killed 1,400 Israeli civilians in the October 7 massacre, more than 10,000 Palestinian lives have been lost in the conflict, according to the Gaza Health Ministry.