This Footnote on Trump Boasting About His Saudi Line of Credit Is Terrifying
What Trump bragged about in a deposition deserves quite a bit more attention.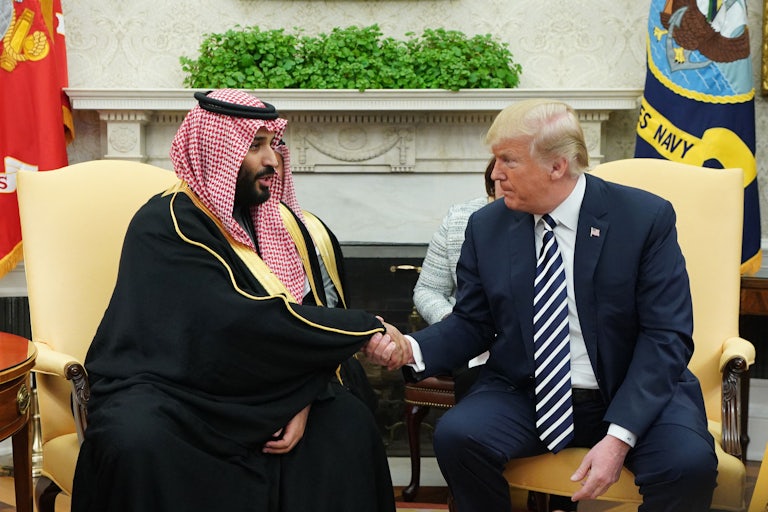 MANDEL NGAN/AFP/Getty Images
Donald Trump argued that he didn't fraudulently inflate the value of his real estate holdings because he could sell them to Saudi buyers at any price he chooses.
The revelation comes in one small footnote in a ruling Tuesday that Trump and his company had committed business fraud for years. The lawsuit, brought by New York Attorney General Letitia James, found that Trump had dramatically inflated his net worth, by as much as $3.6 billion in one year. She accused Trump of lying about the value of various real estate assets.
But in a deposition, Trump "seems to imply that the numbers cannot be inflated because he could find a 'buyer from Saudi Arabia' to pay any price he suggests," New York state Supreme Court Judge Arthur Engoron wrote in his ruling.
"This statement may suggest influence buying more than savvy investing," he added in a footnote.
The lawsuit alleges that Trump claimed his Trump Tower apartment in Manhattan was three times its actual size and worth $327 million. No New York City apartment has ever sold for that much, James said.
He also valued Mar-a-Lago at $739 million. In reality, it's worth about a tenth of that amount. Trump's valuation was based on the property's potential for residential development, but the terms of its deed prevent the land from ever being used that way.
Trump and his allies have always had troubling connections with Saudi Arabia. In 2019, Trump administration officials revealed to Congress that they transferred nuclear technology to Riyadh at least twice, after the killing of U.S. resident and Washington Post journalist Jamal Khashoggi. These incidents occurred despite U.S. intelligence concluding that Crown Prince Mohammed bin Salman, referred to as MBS, hired the hit men who killed Khashoggi.
Trump has also hosted LIV Golf tournaments at his clubs. The Saudi-backed golf league is widely seen as an attempt to sportswash the country's human rights record.
Beyond Trump, his son-in-law Jared Kushner launched an investment fund after they left the White House. One of the first investments Kushner received was $2 billion from a Saudi sovereign wealth fund. Last week, MBS suggested that money would stay with Kushner if Trump were reelected in 2024.