This Stunning Court Ruling Could Destroy the Trump Organization
Donald Trump has been found liable for fraud—and the Trump Organization is going to suffer for it.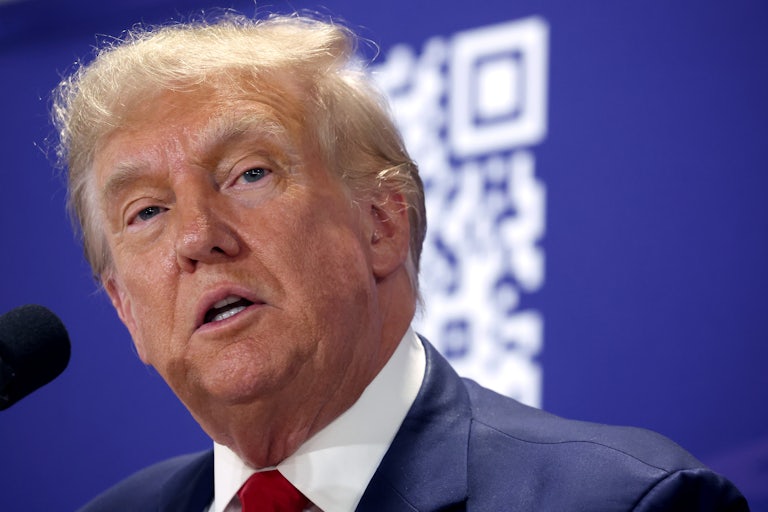 Scott Olson/Getty Images
A New York state Supreme Court judge judge ruled Tuesday that Donald Trump committed business fraud and ordered that all his New York business certificates be canceled. This makes it nearly impossible to do business in New York and could effectively kill the Trump Organization as it exists today.
New York Attorney General Letitia James sued Trump and the Trump Organization in September 2022 for business fraud. She is seeking a penalty of $250 million. Judge Arthur Engoron issued a partial summary judgment on Tuesday that determined the thrust of James's case is true and that a trial is not necessary to find Trump liable.
Engoron ruled that the business certificates for "any entity controlled or beneficially owned" by Trump, his sons Donald Jr. and Eric, longtime Trump Organization chief financial officer Allen Weisselberg, and Trump Organization executive Jeffrey McConney must be canceled.
He gave the men 10 days to come up with three potential independent candidates to handle the dissolution of all related businesses.
Engoron also fined Trump's lawyers $7,500 each for repeating arguments he had previously dismissed.
"Defendants' conduct in reiterating these frivolous arguments is egregious," he said in his ruling. "We are way beyond the point of 'sophisticated counsel should have known better'; we are at the point of intentional and blatant disregard of controlling authority and law of the case. This Court emphatically rejected these arguments, as did the First Department. Defendants' repetition of them here is indefensible."
The case was set to go to trial on Monday. It likely still will, but only so Engoron can determine the extent of the damages that Trump and his co-defendants owe.
Trump's lawyers had previously asked Engoron to issue a summary judgment in their favor dismissing many of the charges against him. They cited a June appeals court ruling that said some of the claims against Trump might be too old to be tried. Obviously, it didn't work.
James found that Trump had dramatically inflated his net worth, by as much as $3.6 billion in one year. Her lawsuit accused Trump of lying about the value of various real estate assets, including skyscrapers and golf courses, allowing him and his associates to get benefits such as favorable loan terms and lower insurance premiums.

Trump claimed his Trump Tower apartment in Manhattan was three times its actual size and worth $327 million. No New York City apartment has ever sold for that much, James said.
He also valued Mar-a-Lago at $739 million. In reality, it's worth about a tenth of that amount. His valuation was based on the property's potential for residential development, but the terms of its deed prevent the land from ever being used that way.
This is the second lawsuit this month that Trump has lost through a summary judgment. In early September, a federal judge ruled that Trump is liable for defaming E. Jean Carroll in 2019 and owes her monetary damages, which will be set at a trial that begins in January.
This story has been corrected to note the judge's correct title.