Rick Santorum Says Quiet Part Out Loud After Republican Election Losses
Republicans are annoyed that democracy is working.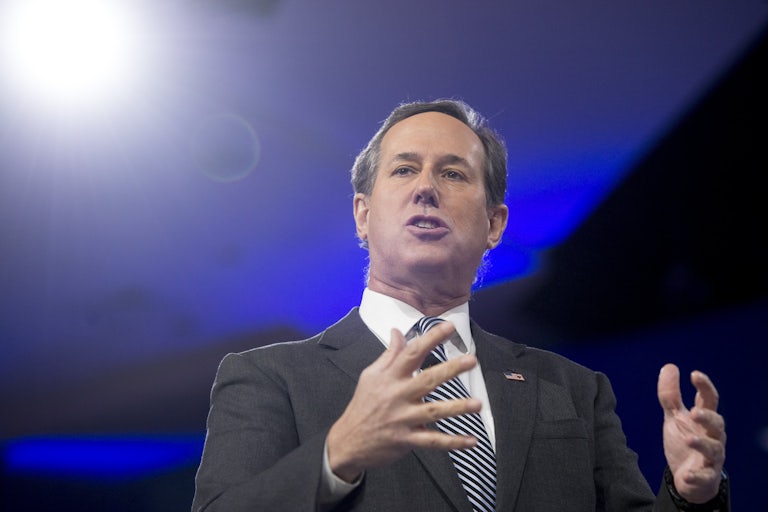 SAUL LOEB/AFP/Getty Images
Former Senator Rick Santorum complained that the major election losses Republicans suffered are actually a sign of how "pure democracies" are a bad form of government.
Republicans faced devastating losses on Tuesday, as voters in Ohio overwhelmingly chose to legalize marijuana and enshrine abortion rights in the state Constitution. In Virginia, Democrats flipped the state House of Representatives, taking control of the entire legislature. While abortion was not explicitly on the ballot, the future of reproductive rights in Virginia hinged on which party controlled the government.
"You put very sexy things like abortion and marijuana on the ballot, and a lot of young people come out and vote. It was a secret sauce for disaster in Ohio," Santorum whined Tuesday night on Newsmax.
"Thank goodness that most of the states in this country don't allow you to put everything on the ballot, because pure democracies are not the way to run a country."
Putting aside Santorum's weird choice of descriptor (sexy, really?), his actual complaint is laughable. Santorum is upset that democracy is working.
As Republicans across the country try to push more extreme agendas, many issues such as protecting abortion, legalizing marijuana, and raising the minimum wage are being put forward for ballot referendums. Republicans lose those votes every time.
But rather than take the actual lesson here and start proposing policies that voters like, Republicans are digging their heels in. Take, for instance, Santorum's other gripe, that young voters turned out because the issues were "sexy" (again, ugh).
Maybe young voters didn't want to just hop on some social trend. Maybe young voters actually care about protecting their rights.