First Jewish Member of Congress Joins Calls for Cease-Fire in Gaza
Becca Balint joins more than 30 other members of Congress calling for a cease-fire amid Israel's war on Gaza.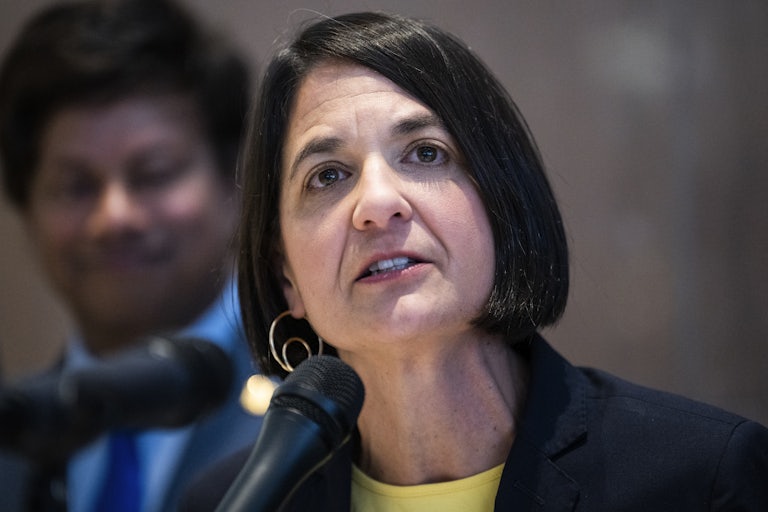 Tom Williams/CQ-Roll Call Inc/Getty
Representative Becca Balint on Thursday became the first Jewish member of Congress to call for a cease-fire in Gaza, joining a steadily growing number of Democrats demanding peace.
A total of 32 lawmakers have now called for a cease-fire. Balint joins 30 other representatives and just one senator, Dick Durbin.
"What is needed right now is an immediate break in violence to allow for a true negotiated cease-fire," Balint wrote in a column for VTDigger. "One in which both sides stop the bloodshed, allow critical access to humanitarian aid and move towards negotiating a sustainable and lasting peace."
"I'm one generation removed from the horrific trauma of the Holocaust, which impacted my family and reshaped the world. Like me, there are thousands of American Jews that share a deep emotional connection to Israel because of what it meant for the survival of the Jewish people in the face of extermination," Balint said.
"This same history also drives so many of us to fight for the protection of Palestinian lives. I do not claim to know how to solve every aspect of this decades-long conflict. But what I do know is that killing civilians, and killing children, is an abomination and categorically unacceptable—no matter who the civilians are, and no matter who the children are."
It's notable that Balint is the first Jewish lawmaker to call for a cease-fire, in part because her words add weight against any arguments that supporting Palestinian civilians is somehow antisemitic. But it's also significant that she called for a cease-fire before her fellow Vermonter Senator Bernie Sanders.
Sanders has remained silent on a cease-fire, despite huge amounts of pressure from his supporters. More than 300 Democratic National Convention delegates who backed Sanders during his 2016 and 2020 presidential runs urged him Wednesday to introduce a resolution calling for a cease-fire. Three weeks ago, nearly 300 of his former campaign staffers also called on Sanders to support a cease-fire.
Congress has been overwhelmed by the outpour of public support for a cease-fire. Democrats reportedly are telling their staff to let calls from voters go to voicemail while the party forms an official opinion.
President Joe Biden has so far resisted calls for a cease-fire, though, telling reporters last week that there was "no possibility" of one. Meanwhile, House Minority Leader Hakeem Jeffries and Senate Majority Leader Chuck Schumer participated in a March for Israel rally on Tuesday. One of the speakers was far-right evangelical Pastor John Hagee, a known antisemite who once claimed Jews were responsible for the Holocaust. Israeli President Isaac Herzog, who last month suggested that civilians in Gaza are legitimate targets, also attended the rally.
On Wednesday, Democratic Representative Brad Sherman spread dangerous misinformation when he described a protest calling for a cease-fire "pro-terrorist."
More than 11,100 Palestinian civilians, more than half of them children, have been killed in Israel's ongoing retaliation to Hamas's October 7 attack. The fighting has also killed at least 39 journalists and other media workers and more than 100 United Nations employees.