"Let It Go to Voicemail": Democrats Reportedly Ignoring Calls for Cease-Fire
A new report shows many Democratic lawmakers are simply ignoring their constituents' phone calls about the humanitarian catastrophe in Gaza.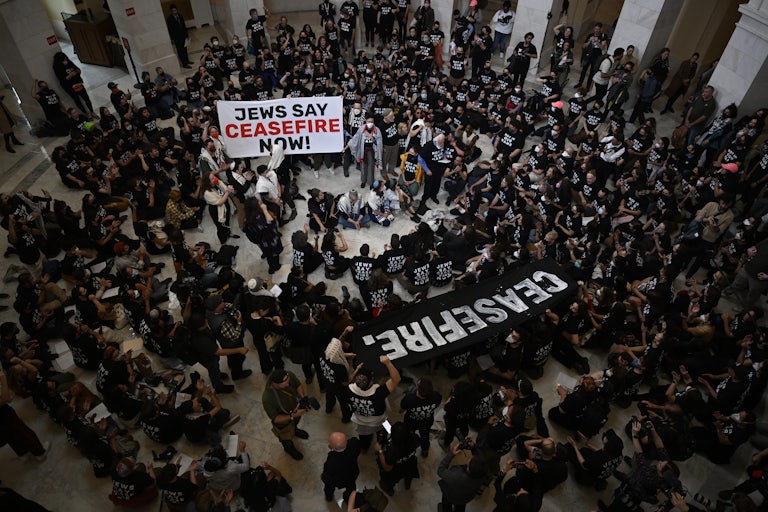 Celal Gunes/Anadolu/Getty Images
Jewish activists stage a pro-Palestinian demonstration at the Capitol building on October 18.
Many Democratic lawmakers are telling their staff to let phone calls asking for a cease-fire in Gaza go to voicemail.
At least 24 lawmakers in the House and Senate have called for a cease-fire in Gaza, but Joe Biden has said there is "no possibility" of that happening. Instead, Israel agreed this week to a daily four-hour "humanitarian pause," which it seems to think is enough time for civilians to flee bombs on foot.
Staff from more than 24 Democratic congressional offices told HuffPost in a story published Thursday that the caucus was unprepared for how many calls, emails, and letters they are receiving from constituents demanding a cease-fire. Most lawmakers do not yet have an official response.
One staffer, speaking anonymously, said that until a formal stance is developed, many of them have been told to "let it go to voicemail."
Another staffer said that the office phone rings every five minutes with someone urging a cease-fire. A third staffer said the phone "doesn't stop ringing at any point in the day."
The majority of voters across party lines believe in the need for a cease-fire, and 80 percent of Democratic voters agree that the United States should call for a cease-fire and de-escalation in Gaza, according to a poll from Data for Progress.

It's not just constituents, either. More than 100 staffers, both Democratic and Republican, staged a walkout on Wednesday to call for a cease-fire in Gaza.
But lawmakers, by and large, seem to be fine ignoring the calls. Some believe the movement will eventually just die down, and one lawmaker allegedly joked, "They weren't going to vote for me anyway."
Staffers are shocked at both the public unity behind the issue and lawmakers' refusal to take it seriously.
"This building is not listening," one Democratic aide told HuffPost. "I've never seen such a disconnect between where voters and constituents are and where Congress is, and that's saying something because there's always a disconnect."
More than 11,000 Palestinian civilians, mostly women and children, have been killed in Israel's ongoing retaliation to Hamas's October 7 attack. The fighting has also killed at least 39 journalists and other media workers and more than 100 United Nations employees.