Stunning New Memo: Trumpworld Knew Fake Elector Scheme Would Fail, Didn't Care
A newly uncovered memo details how Trump's team knew their efforts to overthrow the election were a long shot—but pressed forward anyway.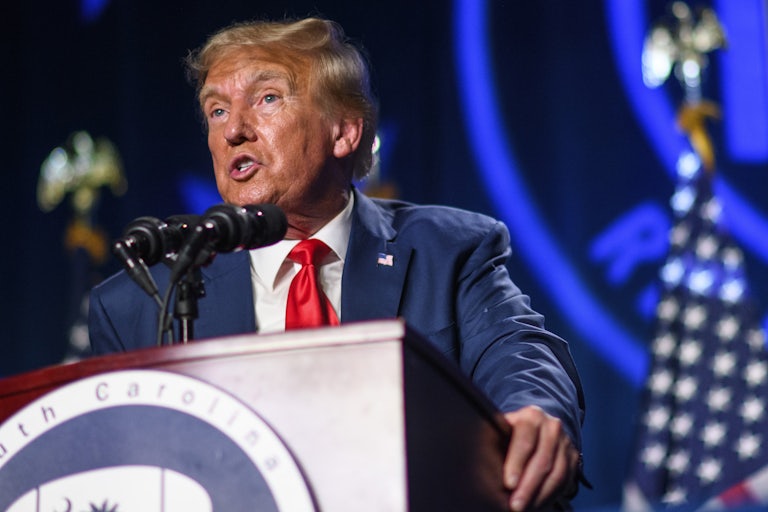 Melissa Sue Gerrits/Getty Images
The lawyer who came up with the idea of using fake electors to overthrow the 2020 election knew the plan would fail, but Donald Trump and his allies pressed forward anyway, according to a previously unknown internal memo that prosecutors are using to prove the former president engaged in a criminal conspiracy.
The memo, sent by Kenneth Chesebro on December 6, 2020, was published by The New York Times Tuesday night and details the plan to send in fake electors to falsely certify Trump had won certain states (which is illegal, despite what Trump's legal team says). Chesebro acknowledges in the memo that he is suggesting a "bold, controversial strategy" that the Supreme Court would "likely" ultimately reject.
But that still wasn't enough to dissuade Trump.
Prosecutors described Chesebro's memo in Trump's latest indictment as part of a criminal plan to create "a fake controversy that would derail the proper certification of Biden as president-elect."
The point of Chesebro's plan was not to actually pass legal and judicial scrutiny. Instead, Chesebro's goals were to increase the spotlight on the baseless claims of voter fraud and to give Trump's campaign more time to win its multiple lawsuits challenging the vote results. (Judges threw out every single one of those lawsuits because they had no basis.)
The plan, which Trump lawyer John Eastman eventually took over, involved creating slates of fake electors in multiple states that Joe Biden had won. The argument would be that doing so would ensure that the correct electoral votes could be counted in case a recount flipped the state to Trump.
In separate, previously seen emails, Chesebro had also suggested having then–Vice President Mike Pence open and count the electoral votes alone. Pence could then certify the fake electors' votes, even though Biden would have won the state.
Chesebro cited multiple articles from Harvard Law School professor Lawrence H. Tribe to back up his plan. But Tribe slammed Chesebro's arguments as a "misrepresentation of my scholarship."
In an essay published Tuesday, Tribe pointed out that Chesebro had taken certain points out of context or had applied narrow, specific details to a more generalized situation. Instead, what "Chesebro sought to do could grievously endanger our entire system of self-government under law," Tribe said.