Ethics Report: George Santos Used Campaign Funds on OnlyFans and Botox
Who thought OnlyFans would show up in a House Ethics Committee report?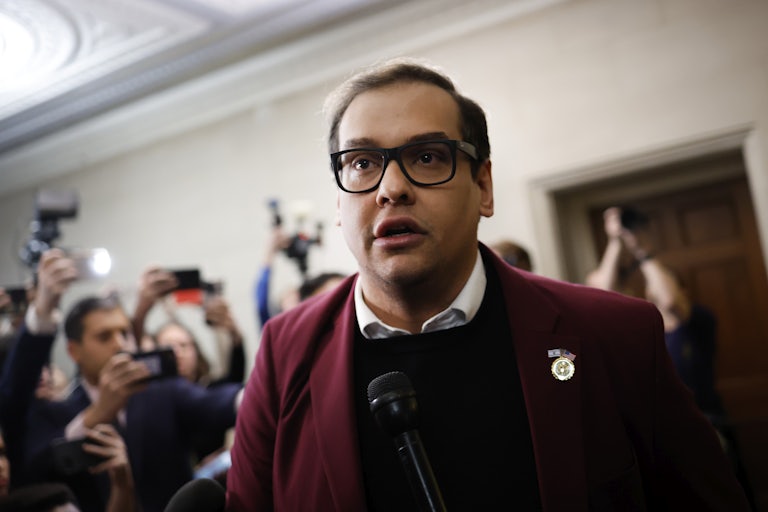 Anna Moneymaker/Getty
The House Committee on Ethics released its long-awaited report on serial fabulist George Santos Thursday, and every single line is more damning than the last.
Santos, a freshman representative, has caused nothing but controversy since he took office. He fabricated the vast majority of his personal and professional background, and in October, he was federally indicted for financial fraud and identity theft.
"The evidence uncovered by the Investigative Subcommittee (ISC) revealed that Representative George Santos cannot be trusted," the report stated. "At nearly every opportunity, he placed his desire for private gain above his duty to uphold the Constitution, federal law, and ethical principles."
The ISC warned that Santos's "lies go far beyond inaccuracies on a resume." The report lays out clearly (and sometimes hilariously) how Santos repeatedly used his campaign to solicit donations, only to use that money for personal expenses. He filed false financial statements and continuously lied to voters, donors, and even his staff members.
One section details how Santos deposited campaign funds into his personal account. He then spent the money on designer goods, makeup, and "smaller purchases at OnlyFans." Santos also spent campaign money on "spa services and/or cosmetic procedures," including Botox.
Santos has repeatedly faced questions about the source of his money. He claimed he worked high-level finance jobs and had a family business.
In reality, according to the report, "Representative Santos was frequently in debt, had an abysmal credit score, and relied on an ever-growing wallet of high-interest credit cards to fund his luxury spending habits."
The report also noted that "at no point does Representative Santos appear to have owned a Maserati, despite telling campaign staff otherwise."
The ISC warned that the worst part of Santos's repeated fabrications is that the "fraud on the electorate is ongoing."
"He continues to propound falsehoods and misrepresentations rather than take responsibility for his actions," the report concluded.
Democratic Representative Robert Garcia submitted a privileged resolution to expel Santos immediately after the report was released. Democrats had already submitted a motion to censure Santos over the summer, but they ultimately shelved the measure.
New York Representatives Marc Molinaro and Nick LaLota also called for Santos to be removed in light of the ethics report. The two freshman Republicans were some of the first members of the GOP to demand Santos resign when news of his serial lies first broke. They also co-sponsored a motion to expel Santos in October, but the measure failed to pass a vote.
"George Santos is a total fraud who stole an election to get to Congress. Now, his election should be invalidated by the House using its Constitutional expulsion powers," LaLota told Politico reporter Olivia Beavers.
In addition to misusing campaign funds and lying about his employment history, Santos has falsely claimed that his grandparents were Holocaust survivors, his mother died in the 9/11 attacks, and four of his employees were killed in the Pulse nightclub shooting. He also lied about founding an animal rescue charity and producing the disastrous Broadway musical Spider-Man: Turn Off the Dark.
Santos has been federally charged with 23 counts of various types of financial fraud. He pleaded not guilty to the initial 13 in May, and he has denied the additional 10 that were filed in October in a superseding indictment. Earlier this year, he also agreed to a deal with Brazilian authorities investigating him for financial fraud so he could avoid prosecution.
Read the full House Ethics Committee report on George Santos here.