Dissent Is Growing: Five More Congressmen Demand Cease-Fire in Gaza
Dozens of members of Congress are calling on Joe Biden to push for a cease-fire amid Israel's war on Gaza.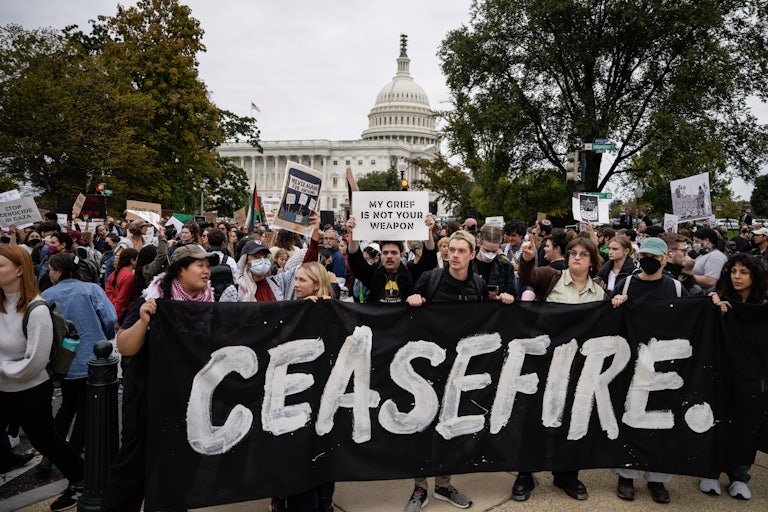 Drew Angerer/Getty Images
Demonstrators rally to demand a cease-fire near the Capitol on October 18 in a rally organized by Jewish Voice for Peace and IfNotNow.
Slowly but surely, the calls in Congress for a cease-fire are growing, as five more representatives on Wednesday urged an end to fighting in Gaza.
Representative Don Beyer released a statement calling for a cease-fire. Shortly after, Representatives Raul Grijalva, Henry Johnson, Mark Pocan, and Mary Gay Scanlon added their names to a joint letter to President Joe Biden and Secretary of State Antony Blinken, also calling for peace.
"Without an immediate cessation of hostilities and the establishment of a robust bilateral ceasefire, this war will lead to a further loss of civilian life and risk dragging the United States into dangerous and unwise conflict with armed groups across the Middle East," the letter urged.
A total of 31 lawmakers have now called for a cease-fire. Beyer, Grijalva, Johnson, Pocan, and Scanlon join 26 other representatives and just one senator, Dick Durbin.
Congress has been overwhelmed by the outpouring of public support for a cease-fire. Democrats reportedly are telling their staff to let calls from voters go to voicemail while the party forms an official opinion.
Biden has so far resisted calls for a cease-fire, though, telling reporters last week that there was "no possibility" of one. Israel has agreed to a daily four-hour "humanitarian pause," which Tel Aviv seems to think is enough time for civilians to flee bombs on foot.
House Minority Leader Hakeem Jeffries and Senate Majority Leader Chuck Schumer also participated in a March for Israel rally on Tuesday. One of the speakers was far-right evangelical Pastor John Hagee, a known antisemite who once claimed Jews were responsible for the Holocaust. Israeli President Isaac Herzog, who last month suggested that civilians in Gaza are legitimate targets, also attended the rally.
More than 11,100 Palestinian civilians, more than half of them children, have been killed in Israel's ongoing retaliation to Hamas's October 7 attack. The fighting has also killed at least 39 journalists and other media workers and more than 100 United Nations employees.