A Running List of Every Major Trump-Endorsed Candidate Who Lost The Election
Former President Donald Trump supported a lot of candidates who lost, often in races Republicans were expected to win.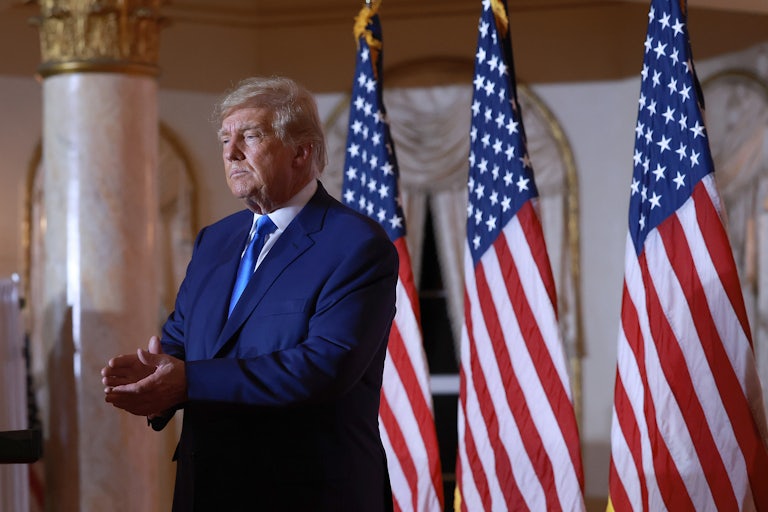 Joe Raedle/Getty Images
Hours before the midterm election polls were set to close, former President Donald Trump said that if Republicans do well, he should "get all the credit"—but if they lose, he "should not be blamed at all."
Maybe Trump knew what was coming. Because what some saw as a forthcoming red wave turned out to be a ripple, at best. And many of the candidates Trump personally endorsed lost the election, a lot of them in races Republicans were expecting to win.
Here is a running list of every major Trump-endorsed candidate who lost the election:
Senate
Kelly Tshibaka, Alaska

Blake Masters, Arizona

Leora Levy, Connecticut

Herschel Walker, Georgia

Adam Laxalt, Nevada

Don Bolduc, New Hampshire

Mehmet Oz, Pennsylvania

Gerald Malloy, Vermont
House
Sarah Palin, Alaska's At-large District

Kelly Cooper, Arizona's 4th district

John Gibbs, Michigan's 3rd district

Karoline Leavitt, New Hampshire's 1st district

Robert Burns, New Hampshire's 2nd district

Sandy Smith, North Carolina's 1st district

Bo Hines, North Carolina's 13th district

Jim Bognet, Pennsylvania's 8th district

Steve Chabot, Ohio's 1st district

J.R. Majewski, Ohio's 9th district

Madison Gesiotto Gilbert, Ohio's 13th district

Yesli Vega, Virginia's 7th district

Joe Kent, Washington's 3rd District
Governor
Kari Lake, Arizona

Darren Bailey, Illinois

Derek Schmidt, Kansas

Dan Cox, Maryland

Geoff Diehl, Massachusetts

Tudor Dixon, Michigan

Scott Jensen, Minnesota

Mark Ronchetti, New Mexico

Lee Zeldin, New York

Doug Mastriano, Pennsylvania

Tim Michels, Wisconsin
Secretary of State
Mark Finchem, Arizona

Kristina Karamo, Michigan

Kim Crockett, Minnesota

Jim Marchant, Nevada
Attorney General
Matthew DePerno, Michigan
This piece was last updated on December 7.

More on how Trump is handling the news: