Norfolk Southern CEO Says He's Committed to Safety—While Another Train Derails
In the first hearing on the East Palestine train derailment, Bernie Sanders grilled the executive, who mostly avoided specific promises.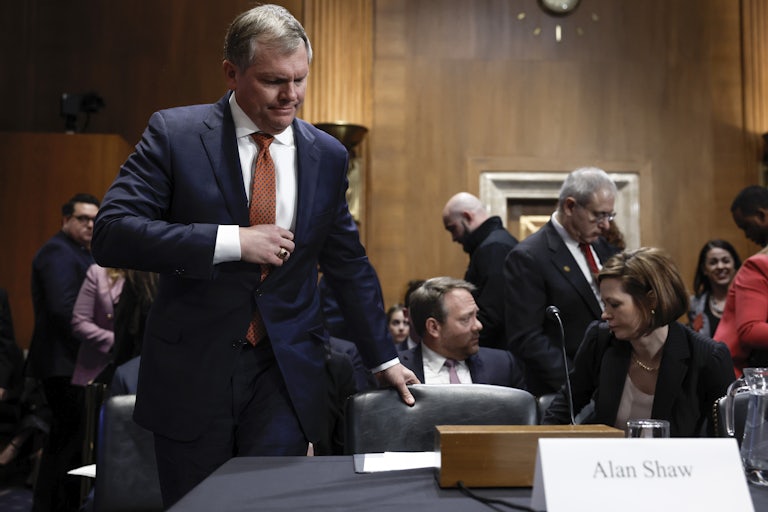 Anna Moneymaker/Getty Images
Alan Shaw, president and CEO of Norfolk Southern Corporation, arrives to testify before the Senate Environment and Public Works Committee on March 9.
Norfolk Southern CEO Alan Shaw told senators Thursday morning that his company is doing "what's best" for the community of East Palestine in the wake of a disastrous train derailment. Shortly before he began speaking about the company's renewed commitments to rail safety, another Norfolk Southern train derailed in Alabama.
The morning's proceedings were the Senate Environment and Public Works Committee's first hearing on the derailment of a Norfolk Southern train last month that has left people sick, animals dying, and residents wondering if it's still safe to remain in the place they've lived in for generations.
Committee members spent much of their time grilling Shaw on questions ranging from how much support the company will pledge to the community to what it will do to lead the industry away from the kinds of practices that have resulted in disasters like those in East Palestine. Over and over, Shaw promised company support to those affected; over and over, he also demurred on the nitty-gritty questions about exactly how far companies will go to make railroads safer for both workers and the public.
The hearing began with opening remarks from Senators Sherrod Brown, Bob Casey Jr., and J.D. Vance. Casey challenged Shaw to support his bipartisan rail safety bill, which, among other things, calls for stronger safety standards for all trains carrying hazardous materials, expands those standards to trains not deemed "high-hazard," and calls for a minimum of two-person crews on freight trains.
Brown echoed this suggestion and criticized Norfolk Southern's adoption of the industry-wide, Wall Street–blessed, precision-scheduled railroading, or PSR, practices.
Precision-scheduled railroading is essentially a series of cost-saving measures, in the name of which rail companies have cut jobs and consolidated dispatch centers, making trains less safe, as fewer workers have less time to manage bigger trains.
Vance was a bit more idiosyncratic with his remarks. On one hand, the senator who likes to position himself as the sage of working-class America denounced some of his Republican colleagues "who seem to think that any public safety enhancements for the rail industry [are] somehow a violation of the free market." Vance suggested the industry's exclusive subsidies are already intervening in the free market. "Do we do the bidding of a massive industry that is embedded with big government, or do we do the bidding of the people who elected us to the Senate into the Congress in the first place?" Vance challenged.
On the other hand, Vance still maintained that it wasn't simply deregulation bought by corporate greed that has led to these disasters. Vance claimed there was a slow response to the crisis in Ohio "because a certain segment of our leadership feels like the people of East Palestine are a little out of style. They have their own politics. They're a little too rural, maybe a little too white."
Shaw responded favorably to the idea of reforms but did not explicitly say he supports the entire bipartisan rail safety bill. Throughout the hearing, Shaw repeatedly claimed that Norfolk Southern has a "culture of safety"—one he commits to making better, by working with others to learn from the East Palestine derailment.
For her part, Senator Debbie Stabenow pointed out that at least 20 derailed Norfolk Southern trains had chemical releases; she questioned how Norfolk Southern would be "learning" from this instance if they hadn't seemed to learn from the previous 20. "I don't want number 21 in Michigan, or anywhere else for that matter," she said.
On broader industry trends, Senator Sheldon Whitehouse described how much money the industry has pumped into lobbying for weaker regulation. Whitehouse focused specifically on the industry fighting against the implementation of updated electronic brakes, as opposed to the Civil War–era brakes generally used on freight trains now.
Senator Bernie Sanders asked Shaw point-blank whether the CEO would commit to leading an industry-wide charge to stop the practice of profit-chasing, job-cutting PSR. Shaw insisted the company was on a "hiring spree," but Sanders pressed, countering that the company was just recouping from previous layoffs. Shaw declined to answer directly, instead saying that he "charted a new course in the industry," by moving "away from a near-term focus solely on profits" and taking a "longer-term view," with regard to its workers.
Sanders then brought up paid sick leave, which is still not guaranteed to all rail workers (though companies including Norfolk Southern have begun giving some workers paid sick days, ostensibly to stave off further regulation).
"Senator, I share your focus on our employees. I will commit to continuing to discuss with them important quality of life issues with our local craft colleagues," Shaw said.
"With all due respect, you sound like a politician," Sanders responded. "Paid sick days is not a radical concept in the year 2023. I am not hearing you make that commitment to guarantee that to all of your workers. Will you make that commitment, sir?"
Shaw repeated that he would speak to employees about "quality of life issues that are important to them."

More on Norfolk Southern's Chemical Spill