Elon Musk Hops Aboard the Tucker Carlson January 6 Conspiracy Train
The billionaire CEO is going further down the rabbit hole.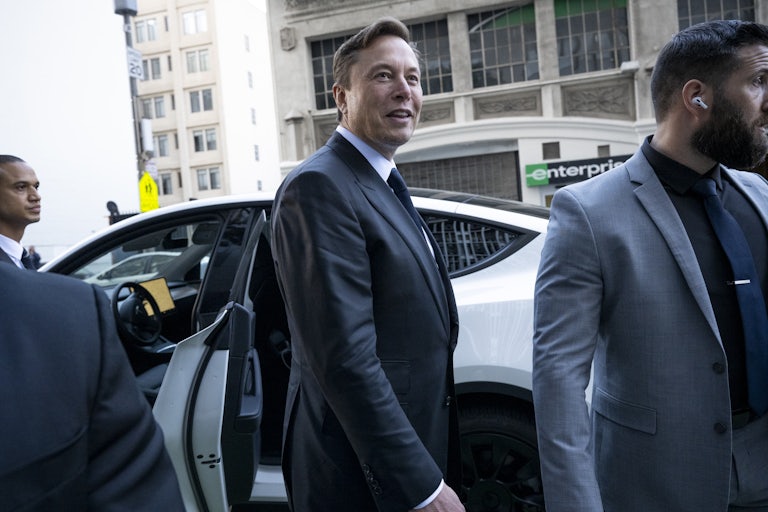 Marlena Sloss/Bloomberg/Getty Images
Aside from not attending to the website he owned after most of its basic functionality failed, and conducting a lawyer-heart-attack-inducing layoff of a disabled person via tweet, Elon Musk has spent most of the past day sharing Tucker Carlson–inspired conspiracies about January 6.
Spurred by Carlson's exclusive blaring of footage of the January 6 attack, Musk maintained incredulity throughout the last 24 hours, tweet after tweet showing in real time the supposedly political enigma going further and further down the rabbit hole.
"Wow," Musk tweeted in response to a tweet of a clip from Carlson's show in which Carlson casts doubt surrounding the death of Brian Sicknick, an officer who died hours after defending the Capitol from the rioters. Musk then retweeted a New York Post article about footage showing Sicknick appearing "uninjured."
Musk then complained about the January 6 committee "misleading the public" and withholding evidence for "partisan political reasons that sent people to prison for far more serious crimes than they committed."
"I keep forgetting which party he belongs to," Musk quipped in response to Charlie Kirk tweeting a video of Senate Minority Leader Mitch McConnell criticizing Carlson and Fox for the January 6 conspiracy-peddling.
Musk—the billionaire whose companies are under constant legal scrutiny for faults like destructive self-driving cars, who happily welcomed virulent antisemites and stochastic terrorists like Nick Fuentes back to Twitter, and has allegedly paid off a sexual harassment alleger $250,000 for her silence—called the committee's attempts to hold domestic terrorists accountable "deeply wrong, legally and morally."
Not for nothing, on Tuesday, Musk also responded to "@MuskUniversity," who tweeted a supposed quote of Musk saying, "Many go woke for the moral cloak."
"So many guys who got MeToo'ed went woke for the moral cloak," Musk propounded. Apparently $250,000 can keep the moral cloak at bay.