Florida Republicans Pass New Bills Guaranteed to Destroy Academic Freedom
The legislation takes "Don't Say Gay" to the next level.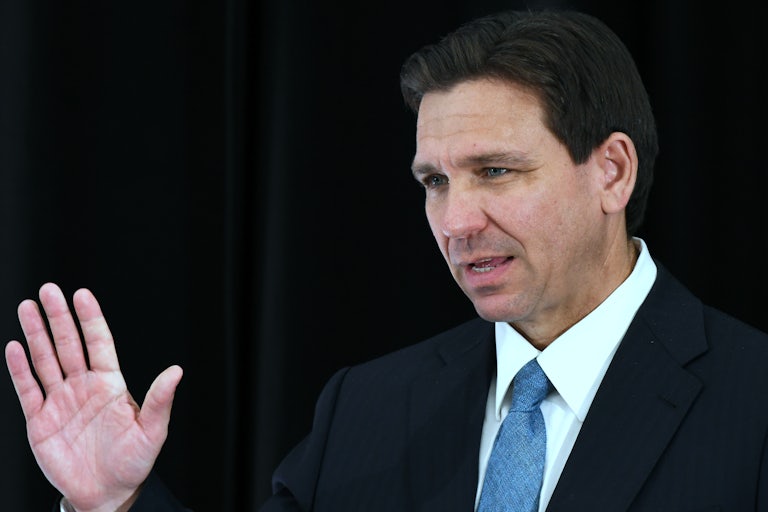 Paul Hennessy/SOPA Images/LightRocket/Getty Images
In Florida, soon eighth graders won't be allowed to say gay, and teachers won't be allowed to teach their own classes without Ron DeSantis's approval.
On Wednesday, the state Senate voted to expand Desantis's hallmark "Don't Say Gay" bill and ban classroom material on gender identity and sexual orientation through the eighth grade. The legislation, House Bill 1069, also strengthens the ability for people to file complaints to ban books, expanding on a status quo that has already led to Florida districts banning books like the entire Court of Thorns and Roses book series, Khaled Hosseini's The Kite Runner, and Alison Bechdel's Fun Home.
The bill also holds "that it is false to ascribe to a person a pronoun that does not correspond" to one's sex at birth. Consequently, staff and students are not required to refer to someone using that person's preferred pronoun, while school staff themselves are banned from providing their preferred pronouns to students if they differ from their "immutable" sex at birth.
Meanwhile, the state House gave final approval to Senate Bill 266, which will require the state Board of Education and state university system's Board of Governors to create faculty committees that review general education courses. The committees are empowered to consider the "removal, alignment, realignment, or addition" of courses based on standards laid out in the bill.
"General education core courses may not distort significant historical events or include a curriculum that teaches identity politics … or is based on theories that systemic racism, sexism, oppression, and privilege are inherent in the institutions of the United States and were created to maintain social, political, and economic inequities," the bill reads.
Slavery, for instance, was foundational to the institutions of the United States; some might make the bold claim that that system of power was based in "systemic racism, sexism, oppression, and privilege." And if you are to make such a claim, well, you better hope you're not teaching a university class in Florida.
The bill more broadly prevents colleges and universities from dedicating any financial resources toward diversity, equity, and inclusion.
The bill also opens up allowing Florida institutions and organizations to discriminate on the basis of gender, which was previously banned.
It also removes language related to Florida State University's Institute for Governance and Civics. It scrubs language describing the institute's mission to "provide the southeastern region of the United States with a world class, bipartisan, nationally renowned institute of politics." It eliminates objectives of the institute, such as motivating students to become "aware of the significance of government and civic engagement at all levels and politics in general," providing "students with an opportunity to be politically active and civically engaged," and empowering students to "interact with experts from government, politics, policy, and journalism on a frequent basis."
In other words, the bill explicitly calls to avoid encouraging young people to be civically engaged or to interact with experts and reporters who may have some news for them about the kind of state they are living in.
Both bills now head to Desantis's desk, where he will complete his legislative session that has amounted to attacking and antagonizing millions of LGBTQ people, students, teachers, women, immigrants, people fearful of gun violence, Disney lovers, and fans of Dwyane Wade. If this all is what's meant to be the runway toward his presidential launch, DeSantis might be taking the challenge of getting "tired of winning" too seriously.