Florida School District Bans Entire Court of Thorns and Roses Series in New Book Ban
The school district banned 23 books, including other bestsellers. Here's the full list.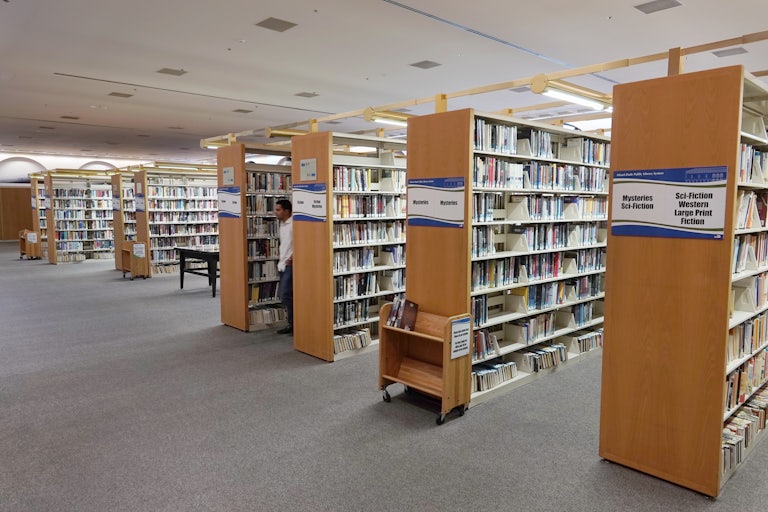 Jeff Greenberg/Universal Images Group/Getty Images
A Florida school district that covers 48 schools serving over 50,000 students on Tuesday released a fresh list of books to be banned from all school and classroom libraries.
St. John's County Superintendent Tim Forson reviewed books that were objected to by parents and community members, determining unilaterally that some of the titles must be removed from the school libraries.
"I own this," Forson said in a school board meeting Tuesday.
Here are the 23 books being banned:
A Court of Mist and Fury—

Sarah J. Maas

A Court of Thorns and Roses—

Sarah J. Maas

A Court of Wings and Ruin—

Sarah J. Maas

All Boys Aren't Blue—

George Matthew Johnson

Blanket—

Craig Thompson

Boy Toy—

Barry Lyga

Call Me by Your Name—

Andre Aciman

Damsel—

Elana K. Arnold

Forever—

Judy Blume

Fun Home—

Alison Bechdel

Handmaid's Tale (graphic novel)—

Margaret Atwood, adapted Renee Nault

House of Earth and Blood—

Sarah J. Maas

I Am Jazz—

Jessica Herthel and Jazz Jenning

I Never—

Laura Hooper

Infandous—

Elana K. Arnold

Me and Earl and the Dying Girl—

Jesse Andrews

PUSH—

Sapphire

The Haters—

Jesse Andrews

The Kite Runner—

Khaled Hosseini

The Nowhere Girls—

Amy Reed

Trans+: Love, Sex, Romance, and Being You—

Kathryn Gonzales and Karen Rayne

Water for Elephants—

Sarah Gruen

When Aidan Became a Brother—

Kyle Lukoff
Forson noted that some other titles are to be "quarantined" away from libraries and media centers as well, until a final decision is made. Meanwhile, titles like Kurt Vonnegut's Slaughterhouse-Five and Rupi Kaur's Milk and Honey are still subject to review, per the district's list of books with objections.
Forson's decision comes in the face of a recently passed Florida law that mandates that books in public schools be subject to review by a "specialist." The bans more broadly follow an ongoing slew of Florida politicians attacking educators' and students' liberties—an assault spearheaded by Florida governor and aspiring fascist Ron DeSantis.
DeSantis has pushed through the "Don't Say Gay" bill, which prevents classroom discussion of sexual orientation and gender identity through third grade; lobbied for the Stop Woke Act, which restricts teaching on race in colleges; announced plans to mandate Western civilization courses and defund diversity, equity, and inclusion programs on state college campuses; and barred the inclusion of an Advanced Placement African American history course in Florida schools.
The Florida High School Athletics Association, under DeSantis's reign, is also recommending requiring student athletes to give their schools detailed information about their periods.