Texas Legislature Finally Advances "Raise the Age" Bill for Semiautomatic Guns After Mass Shooting
Two Republicans had enough of a spine to support the bill. Five looked the victims' families right in the eye and told them to buzz off.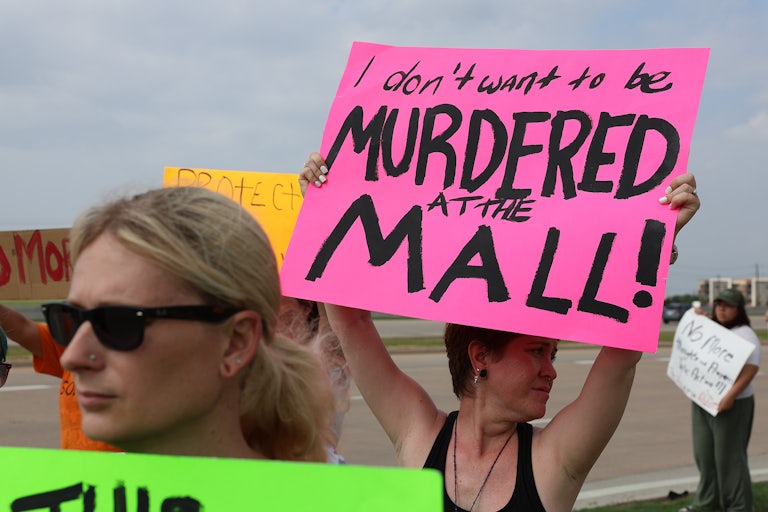 Joe Raedle/Getty Images
People protest against gun violence outside the Cottonwood Creek Baptist Church on May 7, in Allen, Texas, after a mass shooting in the Allen Premium Outlets mall.
It took masses of concerned mothers and families of the victims of the Uvalde school shooting to convince just two Republicans to get the stones to support incredibly modest public safety regulations.
On Monday, large groups of protesters flooded the Texas state Capitol as one Republican committee chair threatened to kill a proposed bill that would raise the minimum age to purchase an AR-15-style rifle from 18 to 21. The bill, endorsed by families of the victims of the Uvalde school shooting, was introduced in February but didn't even get a wink of hearing time until April.
Cheers erupted in the chamber on Monday as the committee advanced the bill.
Monday was the final day the bill could advance. Originally, the committee chair, Ryan Guillen (a former Democrat), said he was not interested in advancing the bill. In face of the mass protests, he seemed to waver, allowing the bill to go to a vote.
And upon voting, two Republicans swung to vote with the Democrats, advancing the bill on an 8–5 vote.
The moment showcases the power of people to actually demand their government act on the wave of gun violence sweeping the nation, and yet still the appalling fecklessness of Republicans to have forced such protests at all. After Uvalde, Republicans have done nothing. After another mass shooting, they had to be convinced, not empowered, by the people to even advance a bill out of committee.
And even then, five Republicans (a majority of Republicans on the committee) still found it within themselves to look at the families of those who have lost their children to gun violence, and still vote the incredibly modest gun reform down.