Washington Post Levels Another "Racist," "Baseless" Attack on Clarence Thomas!
If you're to believe the right's defense of the Supreme Court justice's latest financial scandal, anyway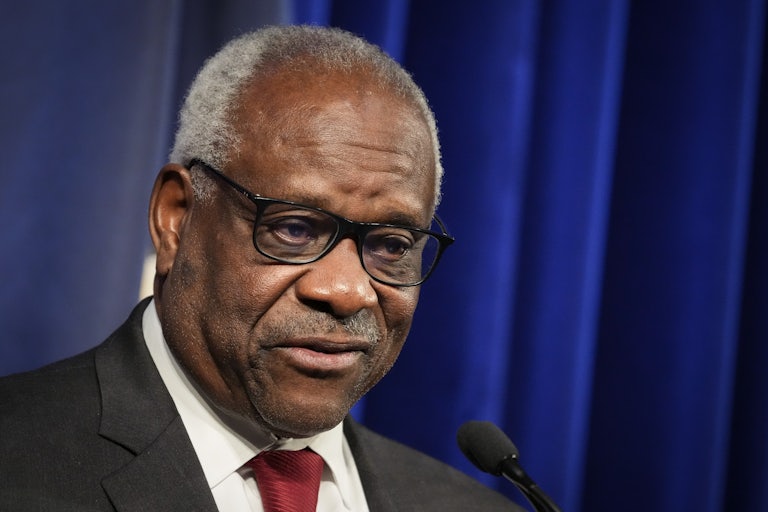 Drew Angerer/Getty Images
Longtime Federalist Society executive Leonard Leo paid the wife of a sitting Supreme Court justice in secret—but if you're to believe the right's defense of it, this is all part of a giant, racist conspiracy cooked up by the left.
The Washington Post has reported that Leo—leader of the bold campaign to obstruct now Attorney General Merrick Garland from the Supreme Court—helped manage an everyday business agreement between Ginni Thomas and Kellyanne Conway.
Leo arranged for Thomas, wife of Supreme Court Justice Clarence Thomas, to be paid tens of thousands of dollars for consulting work that she had done in 2012. Leo made sure her name was left off the billing paperwork and made fake invoices instead, which apparently is a problem for some reason.
Between June 2011 and June 2012, Leo directed Conway's polling company (cleverly named the Polling Company) to charge his nonprofit, the Judicial Education Project, and use the money to pay Ginni—but he asked Conway to please not mention her in the paperwork.
In one January 2012 instance, Leo told Conway he wanted her to "give" Thomas "another $25K," emphasizing that there should be "no mention of Ginni, of course," in any of the paperwork.
In total, the payments amounted to some $80,000 within the timeframe. But what's $80k among friends, really?
Also, never mind that the payments to Ginni came right before her husband voted favorably in a 5–4 majority to roll back voting rights, which is exactly what Leo wanted.
In December 2012, after the stream of payments the Judicial Education Project made to Ginni, the nonprofit submitted an amicus brief in Shelby County v. Holder. The case was challenging the Voting Rights Act. Thomas voted with the slim majority that struck down a key formula in the law that determined which jurisdictions were subject to federal clearance based on their histories of voter discrimination. Thomas's concurring opinion aligned with arguments advanced by the Judicial Education Project.
After the ruling, hundreds of polling places closed, many in predominantly African American communities, while jurisdictions freed from preclearance standards had massively increased voter registration purges.
This is now one of many disqualifying revelations about the Supreme Court Justice; but according to some on the right, any concern about the litany of ethical violations is really just a racist attack against Thomas.
Reporting from ProPublica has similarly revealed what amounts to a warm relationship between Thomas and megabillionaire GOP donor Harlan Crow. The Nazi memorabilia–collecting billionaire has generously paid for the private school tuition of a family member Thomas was raising "as a son." Crow has also extended gifts to the Supreme Court justice, like luxurious island-hopping excursions on superyachts, and even closed a simple, low-key deal in which he bought Thomas family property and proceeded to upgrade it while Thomas's mother still lived in it. Thomas's "son" had joined in on many of the family fun adventures with Crow too.
Apparently though, the problem is that the racist and sanctimonious liberal media can't fathom the idea that a Supreme Court justice (one of the nine most powerful people in our country) can also have close relationships with some of the most financially successful individuals in society, who just coincidentally are arguing cases before the court. And if they can't do that, when will the left come after you, next?