Trump in 2016 on Protecting Classified Info: "No One Will Be Above the Law"
Trump has repeatedly advocated for imprisonment for those who commit a crime like the one he was just charged with.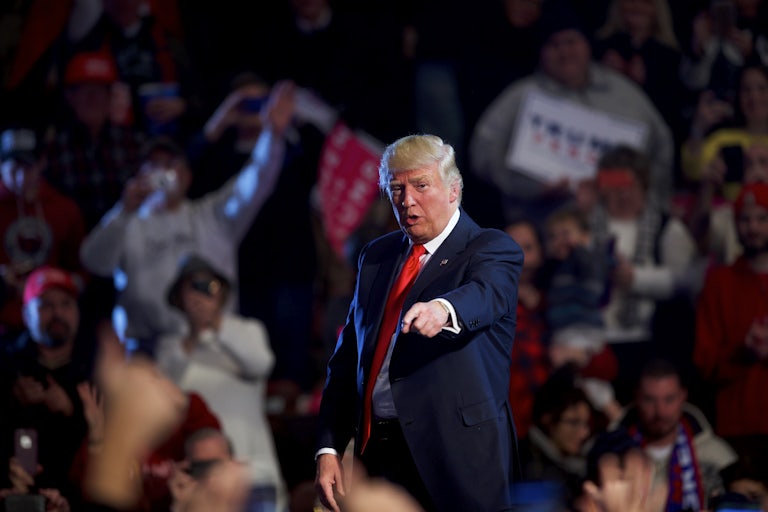 Mark Makela/Getty Images
Donald Trump in 2016
Former President Donald Trump has now been twice criminally indicted, this time facing federal charges for taking hundreds of classified documents from the White House and refusing to turn them over. It's a fun development given that he has repeatedly called for the lengthy imprisonment of those who mishandle classified information.
"On political corruption, we are going to restore honor to our government," Trump said at a North Carolina rally in August 2016, while first campaigning for president. "In my administration, I'm going to enforce all laws concerning the protection of classified information. No one will be above the law."
"One of the first things we must do is to enforce all classification rules and to enforce all laws relating to the handling of classified information," he said a month later at a Pennsylvania rally.
His repeated calls were an attack on his then-opponent, Hillary Clinton, as he successfully "but her emails"–ed his way into the White House. He repeated the calls for imprisonment as president too.
"That is the most confidential stuff," Trump said in 2017, after calls between him and foreign governments, as well as communications between soon-to-be national security adviser Michael Flynn and foreign governments, were leaked. "Classified. That's classified. You go to prison when you release stuff like that."
"He leaked CLASSIFIED information, for which he should be prosecuted," Trump tweeted in April 2018, heeding false accusations that former FBI Director James Comey released classified information to the media.
In 2020, Trump repeatedly said that former national security adviser John Bolton should be imprisoned "for many, many years" for his memoir that apparently included "classified information, highly classified information and confidential information."
Trump even went as far as to tell Fox host Brian Kilmeade that Bolton should go to jail whether he knew he leaked information or not.
The former president has insisted that the material he took to his lavish Florida estate was already declassified and that he has the power to declassify documents anyway, "just by thinking about it." But in a newly released audio recording, Trump himself admits what everyone else already knew: He doesn't have some magical power to declassify things, especially when he's not even president.
In the recording, Trump says he held onto a classified Pentagon document about a potential attack on Iran, speaking to two people who did not have security clearance. "This totally wins my case, you know. Except it is, like, highly confidential. Secret. This is secret information," Trump said. "As president, I could have declassified, but now I can't," he concedes.
Keep that pretty open admission (of again, what we already know to be true) in mind as Republicans trip over themselves finding new ways to defend Trump. For instance, Senator J.D. Vance insists that "everyone agrees the president has the authority to declassify anything," even while the man he's defending has outright admitted he does not.